E-cigarette flavourings may pose health risk, scientists warn as they call for tougher testing

The Independent
12/10/2018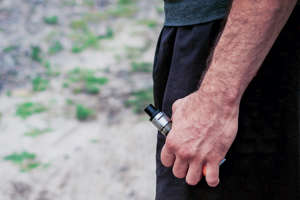 © Provided by Shutterstock Man holding electronic cigarette Common e-cigarette flavourings have the potential to cause harm, according to a new study which calls for much more stringent safety testing as smoking alternatives' popularity booms.
Greek researchers looking at common ingredients in e-cigarette liquids found that mice exposed to tobacco flavouring in the vapour produced higher levels potentially harmful molecules and inflammation than in mice exposed to traditional cigarettes.
Long-term inflammation of the lungs is linked to the development of respiratory conditions including COPD, emphysema and even certain cancers.
Download the all-new Microsoft News app to receive up-to-the minute news from the world's best sources – available now on iOS and Android
The study, published in the American Journal of Physiology, compared various e-cigarette additives with conventional tobacco cigarette smoke.
© Provided by Shutterstock Its findings appear to support that e-cigarettes are safer than conventional tobacco products, as only mice exposed to tobacco smoke showed measurable declines in respiratory function in the longer term tests.
However the authors, from the University of Athens, suggest their findings mean that vaping is not entirely harmless and that lax regulations and testing on ingredients in vaping liquids should be toughened up.
The authors write: "The observed detrimental effects in the lung upon [e-cigarette] vapour exposure in animal models highlight the need for further investigation of safety and toxicity of these rapidly expanding devices worldwide."
For the tests, they exposed groups of mice to either cigarette smoke or vapours containing propylene glycol – a common base ingredient in e-liquids – with added vegetable glycerol, nicotine, or nicotine and tobacco flavouring.
Video: Teens Who Use E-Cigarettes More Likely to Become Heavy Smokers (Buzz60)
All the vapour-exposed mice showed increases in inflammation, mucus production and changes to their lung function – though these were short-lived in the mice just receiving propylene glycol and vegetable glycerol.
It also notes that levels of oxidative stress, where free radical molecules are over produced and can build up and damage the function of healthy cells and DNA, were higher in the vapour groups than the cigarette group.
However, the mice exposed to the tobacco flavouring also showed increased levels of two inflammation-causing protein molecules, suggesting this component may pose an additional health risk.
Virtually all health experts agree that vaping is significantly safer than smoking conventional cigarettes.
While small studies have suggested an inflammation increase the long term health risks of this are less clear, particularly in humans, while the effects of cancer-causing chemicals in tobacco are now well established.
Gallery: 19 habits that age you (Photos Services)