My chronic back pain turned out to be a 9Ib growth in my womb the size of a baby that could have killed me

The i
09/01/2019
For years, Tina Mathias suffered constant back pain and constipation.
Weighing 23 stone 9Ibs at her heaviest, initially doctors dismissed her agony as symptoms resulting from her size.
Download the Microsoft News app for your Android or iPhone device and get news & live updates on the go.
© Provided by Johnston Publishing Ltd Then the secretary lost more than 13 stone – yet the pain and constipation worsened, leaving her signed off work and bed-ridden for months.
Tina was baffled how why, despite her much slimmer frame, her stomach was still protruding so much.

"I'd lost so much weight and I thought I'd be healthier, but the pain in my lower back, sides and abdomen carried on," she told i.

"Then it got so bad that I couldn't get out of bed and I would wince if my husband touched me. "Then when I really slimmed down, my belly was still so large. I looked six months pregnant. 
Someone in work asked me when the baby was due and that's when I knew something really wasn't right."
Life-saving surgery
Tina, from Pembrokeshire, Wales, says her addiction to food got out of control when she was 30 after her father died, followed shortly by her grandfather.
"I'd always had a weight problem and turned to food for comfort," she said. "I just loved food and I'd overeat anytime when I was happy or sad, but especially when I felt stressed or down."
At 34, when she couldn't fit into size 28 trousers, she decided to get healthier and lost the weight in nine months using a food replacement plan.
She was then unaware that her weight had likely been masking a huge uterine fibroid that had been growing for years – and could have killed her.

© Provided by Johnston Publishing Ltd Tina, now 41, said: "I'd had the pain and constipation throughout my twenties then it became really bad for the last two years and I was off work in bed for three months. My periods were normal which is why I didn't think it was a problem with my reproductive system.
"But then sex started to become really painful.
"At first my back pain was put down to my size. Then when I lost the weight they said my constipation was because of my low calorie diet, even though my that point I was on the maintenance plan which introduces normal food and having around 1,200 calories a day.
"After six months of going back and forth to the doctor I had a scan and I was sat down and told I had a huge non-cancerous growth that had likely been growing for around a decade.
"I was told it was dangerously close to my bowel and it could perforate it and I would die unless I had a hysterectomy."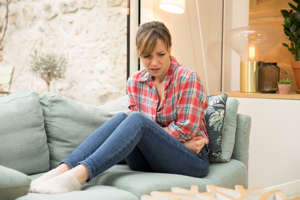 © Getty Woman suffering from abdominal pain. (Photo by: BSIP/UIG via Getty Images) What are fibroids?
Fibroids are non-cancerous growths that develop in or around the womb (uterus).
The growths are made up of muscle and fibrous tissue, and vary in size. They're sometimes known as uterine myomas or leiomyomas.
Many women are unaware they have fibroids because they don't have any symptoms.
According to NHS Choices, women who do have symptoms (around one in three) may experience:
- Heavy periods or painful periods
- Tummy (abdominal) pain
- Lower back pain
- A frequent need to urinate
- Constipation
- Pain or discomfort during sex
In rare cases, further complications caused by fibroids can affect pregnancy or cause infertility.
Unable to have children
© Provided by Johnston Publishing Ltd Tina was then aged 36 when she had the surgery and, after two previous failed IVF attempts in 2003, it meant that she would never start her own family.
She was also told that the fibroids could have decreased her chances of getting pregnant.
"When I had the IVF, I was told there was a shadow on my womb but they put it down to the drugs I was taking then.
"It was a blow to have the hysterectomy but I'm lucky that I have such an amazing relationship with my husband Efion that I count my blessings," she said.
"Having children just wasn't meant to be for us and I have accepted that.
"At least the surgeon was able to save my ovaries which meant I didn't go into early menopause."
Fibroids are common, with around one in three women developing them at some point in their life, according to NHS Choices. They most often occur in women aged 30 to 50.
The exact cause is unknown, but they have been linked to the female hormone oestrogen. It's thought they occur more often in overweight or obese women because being overweight increases the level of oestrogen in the body.
"My big size has likely fulled the growth of the fibroid," said Tina. "But I'm so glad I lost the weight because if I hadn't I may not have discovered I had it and I could have died."
New healthy outlook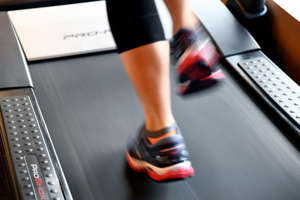 © Getty Woman on treadmill Tina, who is now a part-time fitness instructor, says she's now happier and healthier than ever before.
"Doctors advise against quick weight loss and I know people have piled the weight back on after extreme diets," she said. "But LighterLife worked for me because I made a long-term lifestyle change. I was determined to meet my goals.
"As part of the programme I had cognitive-behavioural therapy (CBT) which really was the key. Now when I'm stressed I use training as a mechanism to unwind, or I go for a walk, instead of reaching for food. I eat a healthy balanced diet.
"I'm just so grateful to still be here." 

Gallery: Sick of Doing Crunches? 15 At-Home Exercises to Target Your Abs [Cheapism]
"I'm just so grateful to still be here."