Slight raise in blood pressure by 50 could increase dementia risk by 45 per cent

The Telegraph
13/06/2018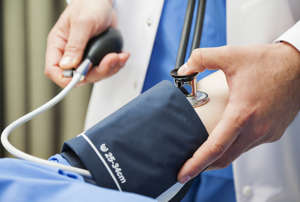 © Provided by Shutterstock Slightly raised blood pressure in middle age could increase the risk of dementia by up to 45 per cent, new research shows. A study of almost 9,000 civil servants found that 50-year-olds with readings of more than 130/80 had a far greater chance of developing the disease in later life.
Currently, around seven million Britons whose blood pressure exceeds 140/90 mmHg are recommended by GPs to take medication to control it.
But NHS watchdogs are considering bringing the threshold down further, in line with US advice which recommends drugs are taken when levels reach 130/80mmHg.  Almost half of the adult population in the UK would be eligible for such drugs, if this change was made.
MSN has launched a campaign to tackle loneliness, which affects 9 million across all age groups and walks of life in the UK. Discover more on this 'silent epidemic': Please donate now
The new study, published in the European Heart Journal, suggests that such levels at mid life are enough to significantly increase dementia risk.
Those with systolic blood pressure of 130mmHg or more at the age of 50 had a 45 per cent greater risk of dementia compared with those with lower levels at the same age.
What blood pressure readings mean
Researchers said the danger appears to stem from the amount of time people suffered from high blood pressure, with raised levels aged 50 meaning people were exposed to risks for far longer than if levels were raised in their 60s or 70s.
High blood pressure has been linked to mini strokes, damage to the white matter in the brain, and restricted blood supply to the brain, causing mental decline.
The research by the French National Institute of Health and Medical Research (Inserm) in Paris and University College London tracked participants in the Whitehall II study, who were aged between 35 and 55 in 1985, for 32 years.
Related: Are you suffering from high blood pressure? (provided by Espresso)
Professor Archana Singh-Manoux, research professor at INSERM and honorary professor at UCL, who led the research, said: "Our work confirms the detrimental effects of midlife hypertension for risk of dementia, as suggested by previous research. It also suggests that at age 50, the risk of dementia may be increased in people who have raised levels of systolic blood pressure below the threshold commonly used to treat hypertension.

"Our analysis suggests that the importance of mid-life hypertension on brain health is due to the duration of exposure. So we see an increased risk for people with raised blood pressure at age 50, but not 60 or 70, because those with hypertension at age 50 are likely to be 'exposed' to this risk for longer."
The average age at which the study participants developed dementia was 75. Researchers stressed that the research was observational.
Fellow author Dr Jessica Abell said: "There is considerable discussion on the optimal threshold for the diagnosis of hypertension. There is plenty of evidence to suggest that maintaining a healthy blood pressure in middle age is important for both your heart and your brain later in life. Anyone who is concerned about their blood pressure levels should consult their GP."

© Provided by Shutterstock The National Institute for Health and Care Excellence (Nice) is currently considering evidence which has led the US to change its advice, making millions more patients eligible for daily drugs to cut their heart attack risk.
The recommendations follow trials which found that aggressively lowering the targets for blood pressure could reduce death risks among over 50s by almost one quarter.
What are the early signs of dementia?
Nice said it was considering the same evidence, alongside other trials, such as one by Oxford University which found similar benefits. The watchdog said it will publish its new advice next year.
Blood pressure drugs which cost the NHS as little as 10 pence a day, are normally recommended for patients deemed to have a 20 per cent risk of heart disease or stroke within the decade.
But the guidelines published by the American Heart Association bring the systolic threshold down to 130/80 – which is estimated to mean a 10 per cent chance over the same period.
The changes mean 46 per cent of Americans are classed as "hypertensive" – up from less than one third under previous targets.
It follows a US trial of 9,000 patients which was halted early, because of the clear benefits in the group given the more aggressive targets.
Related: 8 heart attack symptoms you should know (provided by Prima)
Similar research by Oxford University found that every 10mmHg reduction in systolic blood pressure cut the risk of stroke and heart failure by about one quarter.

The scientists behind it said roughly half of British adults would be classed as hypertensive – and often advised to take such drugs – if the target shifts to 130/80.
Medication – which costs just pennies – includes ACE inhibitors, angiotensin-2 receptor blockers (ARBs), calcium channel blockers, diuretics and beta-blockers.
Most patients take at least two types of pills, but more aggressive targets are likely to increase the number of different drugs recommended.
Healthy lifestyle changes to reduce blood pressure include losing weight, exercising more, eating healthier, avoiding alcohol and salt, quitting smoking and avoiding stress.
MSN Loneliness Campaign: Who's affected and how is loneliness being tackled? Learn more and please donate now