Stress-Induced Asthma: What You Need To Know

Medical Daily
18/06/2019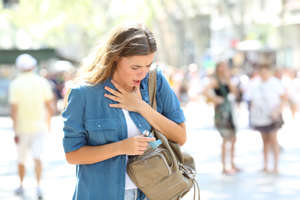 © Getty Asthmatic girl suffering an attack and searching the inhaler in a bag in the street Stress, especially one that is both prolonged and chronic, is a trigger for many conditions. And one such condition is asthma, where a person finds difficulty in breathing due to an inflammation in their airway. Along with triggers, such as physical movement, exercise, humid weather and irritants, the symptoms for the condition usually come and go.
However, throughout the past few years, stress has become a more common trigger for asthma. Matter of fact, according to Asthma UK, around 43 percent of people suffering from asthma said that stress is one of their primary symptoms. Thankfully, learning how to manage both stress and anxiety can do wonders in minimising asthmatic incidents.
Stress and asthma
Today's fast-paced and modern world has created the perfect combination for continuous stress, coming from factors such as school, work and even family. Anxiety can also be a factor, given that it's usually connected with stress.
This means that asthmatic people who get triggered by stress are more susceptible to frequent attacks. However, asthmatics attacks are the same no matter the trigger, and the symptoms still include difficulty in breathing, wheezing, coughing, shortness of breath and tightness in the chest.
How to manage stress with asthma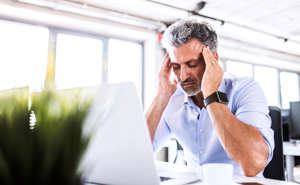 © Getty No matter what the trigger may be, making some simple but effective lifestyle changes will go a long way to help relieve both asthma and stress. Along with following the prescribed medication, asthmatic people can also exercise, eat healthier and get enough rest at night. They can also try meditation, counselling, focusing on controlled breaths, doing yoga and other forms of meditative exercises and walking away from stressful situations.
Once you've effectively learned how to handle your stress and anxiety, you can also help manage your asthma for the long run via acute treatments. This can come in the form of an inhaler or a nebulizer, both of which are effective in helping relieve asthmatic attacks. Visiting your doctor for a treatment plan is also highly recommended, as well.
Bottomline is, more often than not, stress can be a direct trigger to asthmatic episodes. As such, learning how to manage it is crucial, and the same can be said for people who don't have asthma but are stressed in general.
MSN are empowering Women In Sport this summer. Find out more about our campaign and the charity fighting to promote the transformational and lifelong rewards of exercise for women and girls in the UK here.
Gallery: 19 Natural Remedies for Anxiety [Health.com]