Mum fat-shamed by her own son as too fat for water park ride reveals her body transformation

Mirror
15/11/2017
© Provided by Trinity Mirror Plc Credits: Liverpool Echo A 20st mum who was fat-shamed by her own son on a water park ride has revealed her body transformation after shedding the pounds.

Lynsey Martin, 31, from Merseyside, said she was on holiday in Tenerife when her son told her he wouldn't get on the double rubber ring with her in case they capsized.
It left her feeling so ashamed that she gorged herself on three ice creams and cakes to get over it, but now she has lost six stone in a bid to turn her life around.
Our sister title the Liverpool Echo reported that her weight problem has also caused her other embarrassing incidents, including getting stuck when trying to board a minibus full of tourists in Poland.
The 5ft 3in mum-of-two said: "This tiny mini-bus arrived and it was absolutely packed with only a couple of seats left at the back for us.

"I didn't see how I was going to make it. I had to turn myself sideways and even then I had to apologise to everyone as I passed because my bum was hitting everyone behind me, and my belly was hitting everyone in front.
"I was mortified, no-one said anything but I could feel myself going bright red and I have never been so embarrassed or ashamed."
© Provided by Trinity Mirror Plc Credits: Liverpool Echo Lynsey, who runs a dance school in Liverpool, says she put on weight after having her children, and says she ruled out the prospect of marrying Steven, her partner of seven years, because she feared she was too big for a wedding dress.
She said: "When people asked me I shrugged it off because the thought of getting married with everyone looking at me horrified me.

© Provided by Trinity Mirror Plc Credits: Liverpool Echo "I couldn't have stood the thought of people staring at me, and being in a massive wedding dress."
So after the incident with her seven-year-old son Alfie in Tenerife, she decided to change her ways by cutting out takeaways and eating tubs of ice cream.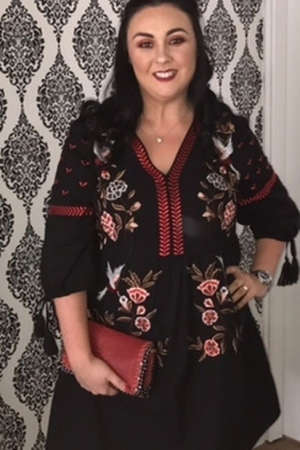 © Provided by Trinity Mirror Plc She has revealed her transformation (Image: Liverpool Echo)

© Provided by Trinity Mirror Plc Credits: Liverpool Echo She joined a local Slimming World group, leading to a dramatic body transformation, which will allow her to finally walk down the aisle for her wedding day.
Lynsey added: ""Far from dreading it I am looking forward to walking slowly down that aisle, making sure everyone can see me now I have lost all the weight with more, I know, to come.
"I can be the beautiful bride I have always wanted to be. I am so excited, I can't wait."
Related: The Best 10-Minute High-Intensity Workout (provided by Popsugar)
For more of the most popular News, Sport, Lifestyle & Entertainment on MSN, Follow us on Facebook, and on Twitter