Strawberries might help in fight against breast cancer, researchers say

Mirror
20/04/2017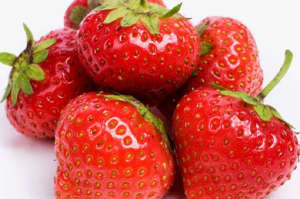 © Provided by Trinity Mirror Plc Researchers stressed that results from animal tests do not necessarily mean the same effects will be seen in humans (Photo: Getty) Strawberries can help contain breast cancer, scientists have found. 

Researchers tested an extract from the fruit on lab-grown cancer cells and female mice with breast cancer tumours.
After five weeks on a strawberry-boosted diet, the mice showed no sign of progressing cancer spread and their tumours had shrunk.
More than 50,000 women are diagnosed with the disease every year in the UK.
Dr Maurizio Battino, from the Marche Polytechnic University in Italy, said: "We ... saw a significant reduction in the weight and volume of the tumour."
The cancer cells used in the experiments were from a highly aggressive and invasive strain.
However, the researchers stressed that results from animal tests do not necessarily mean the same effects will be seen in humans.
Previous studies have already shown that eating between 10 and 15 strawberries a day can make arteries healthier by reducing blood cholesterol levels.
Phenolic plant compounds in the fruits are thought to be responsible for the beneficial effects.
© Provided by Trinity Mirror Plc Credits: Getty Breast cancer cell line studies showed that strawberry extract blocked biological processes involved in tumour growth and spread.
The activity of several genes playing a role in metastasis, or cancer spread, were reduced. At the same time, one gene believed to suppress the spread of breast cancer, Htatip2, became more active.

Dr Battino said: "The majority of diseases, including cancer, are complex, and involve complex interactions between cellular and molecular systems that determine the development of the disease.
"These results are without a doubt valid for understanding potential effects of strawberries on breast cancer and the molecular mechanisms involved, but they must be complemented with clinical and epidemiological studies to verify whether humans experience the same positive effects as we have observed in mice."
The study appears in the latest edition of the journal Scientific Reports.
© Provided by Trinity Mirror Plc Credits: Getty Meanwhile researchers at the Cancer Research UK Beatson Institute and the University of Glasgow have discovered that removing the non-essential amino acids serine and glycine from the diet of mice slowed development of lymphoma and intestinal cancer.
Amino acids are the building blocks that cells need to make proteins.
Dr Oliver Maddocks, a Cancer Research UK scientist at the University of Glasgow, said: "Our findings suggest that restricting specific amino acids through a controlled diet plan could be an additional part of treatment for some cancer patients in future, helping to make other treatments more effective."
But experts also warned cancer patients not to make any changes to their diet without consulting their doctor.
They also stressed that studies in humans would have to be conducted first before any recommendations could be made about cutting out amino acids from the diets of cancer patients.
Professor Karen Vousden, Cancer Research UK's chief scientist and study co-author, said: "This kind of restricted diet would be a short term measure and must be carefully controlled and monitored by doctors for safety. Our diet is complex and protein - the main source of all amino acids - is vital for our health and well-being."
Related: 25 Foods That Reduce Your Breast Cancer Risk (Provided by Zero Belly)
25 Foods That Reduce Your Breast Cancer Risk