Why don't women play more sports?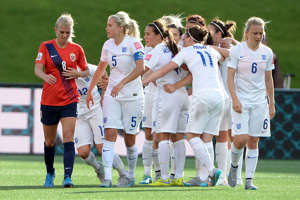 © USA Today Sports England beat Norway 2-1 in the Women's World Cup (June 22, 201) There's been far more interest in the 2015 Women's World Cup than in previous years – especially as the England team celebrate reaching the quarter finals for the first time thanks to their Victory against Norway.
But if you ask your friends whether they're sporty, the chances are it'll be the men who put their hands up. From the women, you're more likely to hear a range of negatives, from "I'm no good at sport" to "I'm just not interested." This gender difference is marked.
Research carried out by Sport England (under the Department of Culture, Media and Sport) revealed that two million fewer women than men are active. However, 75 percent of those women said they want to do more sport. This is important. Exercise has a range of physical and mental health benefits and women are missing out. In other European countries, the gender difference is far less pronounced. So what is going on?
It begins in school
In 2012, a campaign was launched to get more school girls into sport. The drive came after research by the Women's Sports and Fitness Foundation (WSFF) revealed that more than half of Britain's girls are put off by PE classes. This aversion to sport, which begins with the hell of endless netball games in the rain, can last a lifetime.
The report, based on research by the Institute of Youth Sport at Loughborough University, showed that half of all girls (51 percent) are put off physical activity by their experiences of school sport and PE. 45 percent of girls said "sport is too competitive" and more than half thought that boys enjoy competitive sport more than girls.
Meanwhile, more than half of all boys and girls agreed that "there are more opportunities for boys to succeed in sport than girls."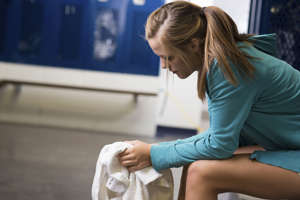 © Getty Body issues
Sadly, but unsurprisingly, the WSFF research found that 48% of girls interviewed believed that getting sweaty is "not feminine."
That body issues begins young is not news and new research emerges all the time highlighting the fact.
The My Body Philosophy campaign, launched by charity Body Gossip with Bio-Oil, revealed that more than a quarter of teens have been bullied about the way they look and that teenagers across the UK worry more about their bodies than their grades.
The school campaigns
The WSFF has been calling on schools to make sports lessons more appealing to girls after saying some PE lessons were "stuck in the 1950s jolly-hockey-sticks style of the past".
"It's simply unacceptable that the overwhelming majority of our young women are leaving school with dangerously low levels of physical activity," WSFF chief executive Sue Tibbals told the BBC.
"We can't afford to keep ignoring the evidence that school sport plays a key role in shaping attitudes to sports and fitness."
Meanwhile, the Youth Sport Trust said schools needed to face up to the challenges of getting girls into sport, addressing issues like body confidence and lack of active role models.
"Schools that deliver PE well recognise these challenges and offer a wider variety of sports and physical activity that make girls feel included," said chairwoman Baroness Sue Campbell.
It's not just school
The gender imbalance in sport carries on well beyond teenage years. Currently, 40.6 percent of men play sport at least once a week, compared to 30.7 percent of women. Of course this isn't just about bad experiences in school. There are myriad social issues which create the beliefs preventing women from participating. It's hard to get past body image as a major stumbling block, however.  Many women feel unable to join in physical activity because they are ashamed of how they look.
The campaigns
It was to tackle this assumption – that only those who are already slim and fit should exercise – that the brilliant This Girl Can campaign was created. Developed by Sport England, This Girl Can aimed to show that women of all shapes and ages can be active. With not a model or professional athlete in sight, the adverts celebrated muddy, sweating, cellulite-bearing women in all their glory.
"Before we began this campaign, we looked carefully at what women were saying about why they felt sport and exercise was not for them," said Jennie Price, Sport England's CEO. "Some of the issues, like time and cost, were familiar, but one of the strongest themes was a fear of judgement. Worries about being judged for being the wrong size, not fit enough and not skilled enough came up time and again. Every single woman I have talked to about this campaign has identified with this, and it is that fear of not being 'good enough' in some way, and the fear that you are the only one who feels like that, that we want to address."
© AP In 1967, Katherine Switzer found herself targeted in the until then all-male Boston Marathon when a Thomas Miller threw a block that tossed a race official out of the running instead. Visibility in Women's Sport
It's not just that women and girls aren't playing sport, they also seem to be missing from the professional arena. Women's sport is given less media coverage due to a perceived lack of interest from viewers. This in turn negatively affects the profile of female sports teams, as we simply see them less. It also means that women's sports teams are less likely to get commercial sponsorship.
Women In Sport was established to tackle these issues. The organisation says: "We want equal opportunities for women and girls, in sport, and in society as a whole. By increasing the visibility of women's sport, in the media and in everyday life, we will inspire people to play their part at every level and make sport normal for women and girls."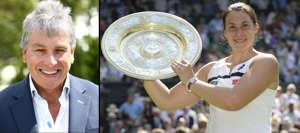 © Rex John Inverdale and Marion Bartoli Sexism in sport
Often, female athletes have to contend with a stream of misogyny. Two years ago, BBC Radio 5 Live presenter John Inverdale had this to say about French player Marion Bartoli's Wimbledon victory: "Do you think Bartoli's dad told her when she was little, 'You're never going to be a looker, you'll never be a [Maria] Sharapova, so you have to be scrappy and fight'?"
Add this to a long line of dismissals that include the endless commentary about Serena Williams, which trends to focus on her muscular body, the pronouncement that the Entire Brazilian Women's Soccer Team were "heavy looking" and the awful comments about British Olympic swimmer Rebecca Adlington and you can see why women might be put off playing sport.
Things are improving
In the professional arena, there has been improvement. The 2012 Olympics were a turning point, marking the first time the Games had seen every country in the competition send female athletes. Among other female icons of the Olympics, Britain's Nicola Adams, became the first woman to win an Olympic boxing title.
Since 2012, the England women's rugby team have won the world cup in France in August. Last November, the England v Germany women's football match make sporting history with a record attendance of fans and 55,000 tickets sold at Wembley. The England women's cricket team won the Ashes in Australia in January and later reached the final of the World Twenty20.
This summer, every game from this Fifa Women's World Cup will be broadcast live on BBC Two and Sky Sports will live broadcast the Netball World Cup.
Celeb role models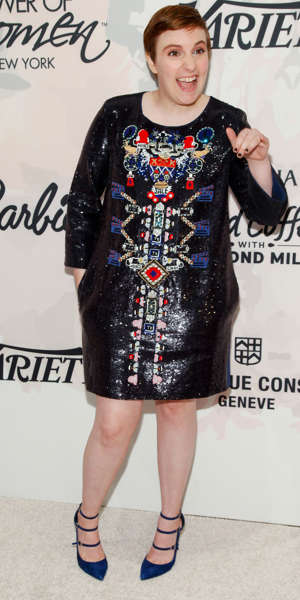 © AP There is no single factor that prevents women playing sport but role models certainly play a part. For that reason, we rejoice when celebrities stand up and saying they're getting sweaty for the right reasons.
Lena Dunham is one of the new brand of celebs exercising for themselves without bowing down to society's tired old beauty ideals. "Exercise has helped with my anxiety in ways I never dreamed possible," Dunham said. "To those struggling with anxiety, OCD, depression: I know it's mad annoying when people tell you to exercise, and it took me about 16 medicated years to listen. I'm glad I did. It ain't about the ass, it's about the brain."
After a tough pregnancy, Zoe Saldana embraced sport as a way to heal, saying: "My case was like that, everything from my thyroid to my platelets crashed. Thank God, we are all doing great now, but my body was really bent out of shape after the boys were born. Bouncing back feels impossible, but I know it is important as a woman, and now a mommy, to not give up. I am determined to get my energy back and find balance for my body."
Whatever your reasons, it's never too late to get active.