Anger at hospital's ban on men in breast screening clinic waiting area

The Independent
07/03/2018
© Provided by Independent Digital News & Media Limited A hospital trust's ban on men entering a breast screening waiting room has been called "dated" and "sexist".
"Gentlemen are kindly asked to wait outside," reads a sign in capital letters, which is posted on the reception door of the Park Centre for Breast Care in Brighton.
Brighton and Sussex University Hospitals NHS Trust, claimed it was there to make women feel "safe, secure and dignified", but it has now been asked to rethink the rule.
When Sue Jones, 52, attended the clinic for a scan after finding a lump that she was worried about, she took her friend Liam Hackett along with her for support.
She said the waiting area is separate from the changing rooms, which had locks, adding that she saw no topless women in the waiting area.
"It made me quite angry. They wouldn't even discuss it with me," she said. "The scan makes you really anxious; this policy doesn't make things better for you. We should be open because it reduces taboo and they should be encouraging people to be clear about their health."
She added: "This decision can only be based on sexism. The implication is that you can only bring a female. It implies that men are there for the wrong reasons. The point is there is no reason for it.
"I'm the kind of women who never asks for help. The one time that I did, this happens, it just validates why I do not bother asking for it."
Mr Hackett, who waited for Ms Jones outside in the corridor, said: "It just seems very strange. I can't begin to imagine to think what it would be like to have to go on your own. Pain and fear are ever-present in healthcare, the NHS should consider the patients,"
He urged the hospital on to "immediately review and revoke" the "dated, sexist & disgusting" policy, which he said had caused "offence, upset and embarrassment", in a post on Twitter
"Am I not allowed to comfort a friend when she is feeling vulnerable?" he added. 
My friend is going for a breast screening & is understandably nervous, so I offered to come with her to be told that I am not allowed to come into the waiting area because I am male. I am now stood in a cold corridor waiting for her. This is dated, sexist & disgusting @NHSEnglandpic.twitter.com/qALoM6hrpl

— Dr. Liam Hackett (@DiageoLiam)

February 24, 2018
A spokeswoman for the Brighton and Sussex University Hospitals NHS said it was "not a case of men not being allowed into the breast centre, but very specifically one interior waiting room."
"Men are welcome in the outside area but women have to take their tops off, just put one layer back on and walk through that small waiting room to go through for their scan," she told The Independent.
"In feedback, patients said it makes them feel uncomfortable when there are men in that waiting room, so we instigated the policy to protect the women who are using that facility.
It is to make them feel safe secure and dignified and that they are treated in a place where there interests are put first."
She said the clinic was aimed at women who have been invited as part of national screening programme and are generally those who are not presenting symptoms.
The appointment lasts around 20 minutes and around 50 women are seen each day. "The policy has been in place for 10 years or more and we have not had that many complaints in that time," she said.
"Patients who have been referred by a GP who do have symptoms would be seen at a different outpatients clinic and they are encouraged to bring support with them."
Those who wanted to be accompanied by a man were also able to attend the outpatients clinic.
SWNS contributed to this report.
Stars who have battled cancelled (GES)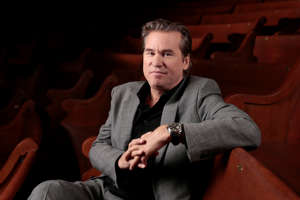 For more of the most popular News, Sport, Lifestyle & Entertainment on MSN, follow us on Facebook, and on Twitter