How to treat severe adult acne, according to a doctor

Evening Standard
23/11/2017
© Provided by Evening Standard Limited Acne is often associated with teens trying to navigate their way through their awkward stage, but according to the International Dermal Institute, 40 to 55 per cent of the adult population between the ages of 20 and 40 suffer from persistent acne.

Dr Sandra Lee has created her empire from pimples. Known colloquially as Dr Pimple Popper, Lee has become something of a cultural phenomenon boasting 1.8million likes on Facebook, 3 million subscribers on Youtube and 2.6million followers on Instagram – but she is also a specialist in treating severe adult acne.
While many people think their acne is due to the diet and lifestyle habits, this often is not the case.
Speaking to the Standard, Lee said: "If your pimples are generally concentrated around your chin and on your cheeks, or if they tend to happen in clusters once or twice a month, your habits might not be the problem.
"In fact, if you're in your twenties and thirties and still struggling with breakouts, you could be dealing with a totally different cause of acne: hormones."
What is hormonal acne?
"At its most basic level, hormonal acne is different from other acne because it's caused by chemicals inside your body rather than factors outside the body," Lee explained.

"We know that unwashed pillowcases, air pollution, build up on makeup tools, eating habits, dirty exercise gear, and over-exfoliating can lead to acne-causing bacteria clogging pores and triggering breakouts."
What causes hormonal acne?
It's natural for hormone levels to fluctuate and this can occur in women in particular during their menstrual cycle. This is because their bodies will produce more testosterone which can trigger hormonal acne breakouts.
Lee added: "Aside from menstruation, a range of other situations (ovulation, polycystic ovarian syndrome, birth control, menopause, and pregnancy, to name a few) can cause hormonal acne flare-ups as well.
"Increases in androgen levels can also cause breakouts, and this increase can be explained by adrenal gland abnormalities, ovarian tumours, or anabolic steroids, among other factors."
Stress can also be a major factor in persistent acne as stress will heighten cortisol levels which throw off your hormone levels.

How can you identify hormonal acne?
Age is a major factor when it comes to hormonal acne as when you are in your teens this acne will appear in your T-zone but when you are an adult is will appear around the lower third of your face – usually the bottom of the cheeks, jaw and on the chin.
Lee said: "Hormonal acne can appear in the form of blackheads, whiteheads and smaller pimples, but it's more likely to rear its head as deeper, more painful cysts that don't have a visible head but are tender and sore to the touch."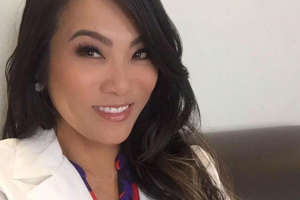 © provided by Evening Standard (Facebook/Dr Sandra Lee)

How can you treat hormonal acne?
Lee advises to pick your facial cleansers carefully and pick one with salicylic acid – and avoid cleansers with harsh scrubbing beads and granules.
She added: "To reduce breakouts as much as possible, make sure all the surfaces and materials that come into contact with your skin — like makeup brushes, towels, bed sheets, and your hands — are extra clean. This will minimize external irritants that may make your hormonal acne even worse."
If the acne persists, make a visit to a doctor or dermatologist who can prescribe a higher concentration of topical treatment.
Lee said: "It's important to keep in mind that everyone's hormonal equilibrium varies, and to properly treat acne-causing imbalances, you may have to go through a trial-and-error process to determine what underlying condition may be causing it.
"For some it's strongly related to diet, for others its birth control, and others it's just about implanting a robust and regular skincare regimen. It's annoying, but it's an unfortunate part of battling acne."
You should also avoid supposed quick fixes as hormonal acne is often the symptom of an underlying condition.
"If you see your doctor and can, together, determine the condition that's triggering your breakouts, you can work together to come up with a treatment plan that's right for your individual chemical makeup," Lee noted.
"Although hormonal acne can be particularly tricky and frustrating to treat, the guidance of a professional could help you clear up your skin safely and relatively quickly. Every person's body is fundamentally unique, which means your acne treatment should be, too."
If you are suffering from hormonal acne, make an appointment with your GP.
Related: Birth Control's Affect On Acne (provided by Wochit News)
For more of the most popular News, Sport, Lifestyle & Entertainment on MSN, Follow us on Facebook, and on Twitter