'The fat gap': Do we have a warped view of food?

Huffington Post UK
01/03/2017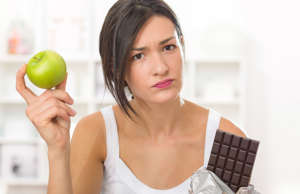 © Getty Clean eating has once again hit the headlines. Last year's "wellness" trend has received a lot of backlash, with doctors, health writers and chefs claiming that the social media sensation has turned toxic and causing a new type of eating disorder, 'Orthorexia'.
Orthorexia is a condition where sufferers become fanatical about healthy eating, cutting out a huge array of food types and exhibiting anxious, obsessive behaviour similar to anorexia nervosa. The sudden increase in this condition is certainly being exacerbated by the fetishisation of eating healthily on social media, pedalled by influencers who live seemingly unattainably pure lives under perfect lighting.
Despite promoting an apparently healthy approach to eating, this fad dieting has proved to be almost as toxic as overeating, bringing a different set of obsessive behaviour that comes with its own health problems. If half of us are getting fatter eating too much and the other half getting ill because they have ruled out too many food types, perhaps we need to admit that our old relationship with food no longer works, and that we need a new more realistic way of communicating what a good diet consists of, and one which works in the modern digital age.
One of the issues which compounds a lack of understanding about healthy eating is a gradual shift in what we see as a healthy looking body. Once again there are two sides of the scale.
© Getty A recent study conducted by YouGov revealed that only one in 10 British people identified themselves as overweight whereas UN reports say that one in four British adults are actually clinically obese - the highest level across Europe. This would suggest that our perception of what overweight looks like has been altered. With our global bodyweight gradually creeping up we have learnt to see bodies classified as not just overweight but obese as being a healthy weight.
On the other side of the spectrum, according to many of the most popular Instagram lifestyle gurus, a healthy diet means a body with virtually no body fat, rippling with muscles that in reality most people in a 9-5 do not have the time to achieve. There is no middle ground anymore and it is very difficult for a person looking for advice to find a consistent or reliable answer to what a healthy body or diet looks like.