We speak to the man behind the celery juice craze that's all over the 'gram

Evening Standard
17/02/2019
Miranda Kerr, Pharrell Williams, Gwyneth Paltrow, Elle Macpherson and Calvin Harris are just some of the celebrities at the forefront of the celery juice craze which is currently all over Instagram.
It all started with one man. Anthony William, aka the Medical Medium, who has 1.6 million followers on the app, is the self-proclaimed "originator of the global celery movement".
He is evangelical about drinking celery juice and says he believes it has "healing powers".
He told the Standard over the phone that he first received a "gift" of information from a source he calls "the spirit," when he was four years old. This source, he says, told him about the benefits of celery juice and he went on to recommend it to a family friend who was suffering from back pain in 1975. He's been spreading the word, as it were, to thousands, millions even – if you count his Instagram following – ever since.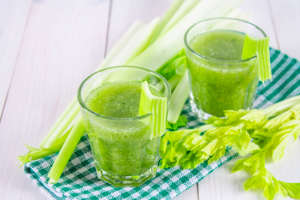 Things started to accelerate once he published the first of his series of Medical Medium books in 2015, he says: "It then became like a quiet storm that just toppled onto everyone like a tidal wave this year."
Now, if you search #celeryjuice on the 'gram, over 90,000 posts like the one below come up.
William's feed is full of reposts of before and after shots from his followers who claim the green juice has helped to clear their acne or eczema – many appear to have found a place to document their health journeys in the Medical Medium community.
His claims, however, that celery juice can improve your energy levels, leave you less bloated and with more clarity of mind; that it can relieve fatigue, headaches, even anxiety; as well as more serious illnesses, are not based on scientific research or studies, and that's what dieticians and members of the medical community can't get on board with.
What the experts say
Obviously when anyone makes claims about being able to heal chronic illnesses using anything other than medication, it's dangerous territory, and it doesn't help that William is not a doctor.
Harley Street nutritionist Rhiannon Lambert says: "We don't really have any evidence to prove these magical claims to celery juice. A lot of the stuff out there is purely anecdotal."
She adds that drinking celery juice should, of course, under no circumstance replace a balanced diet or conventional medicine.
While celery does contain vitamins and minerals like potassium, it also has a very high water content.
"Celery is around 90 per cent water," says Lambert. "So celery juice is a wonderful hydration tool but you could just drink water as you will be getting vitamins and minerals anyway from your diet."
The other issue is that by juicing – and William recommends that you juice, rather than blend your celery stalks (we'll get to that shortly) – you lose out on valuable fibre.
"Fibre helps with blood sugar balance and is very important for our digestive health," explains Lambert, adding that nutritionally speaking, you're better off blending fruit and veg in a smoothie maker, which is probably a more commonplace kitchen appliance these days.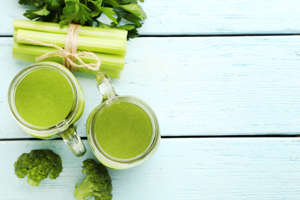 While William is defiant in the face of his naysayers – he says the science behind the healing powers of celery juice is just yet to be discovered – until any research is carried out, none of his claims can be proven.
Though Lambert adds, "if people are enjoying it, there's no harm in adding a little extra nutrition in the morning."
If you do fancy jumping on the bandwagon, William has some very specific instructions for how to make the optimal glass of celery juice...
How to make celery juice the Medical Medium way
"Celery juice is not easy to make and it doesn't taste very good, so for it to thrive to this degree is testament," William says.
To make it his way, you should dust off that juicer, but if you only have a blender to hand, he says in the post above that you can also blend and strain.
"You have to extract it like an herb. It's just like tea, you don't take the teabags and throw them in the Nutribullet – there is big confusion about this," he says. "This is an herbal extraction. When you juice the celery, you're creating a tonic, it's just like green tea."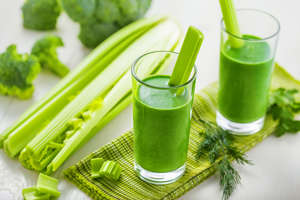 © Derkien He adds that you also shouldn't add anything to the juice like beets, spinach or even a squeeze of lemon juice, it should be pure and consumed first thing on an empty stomach.
William recommends using precisely 16 ounces and says this can be increased to 32 ounces once you get used to it.
"It can be consumed twice a day, closer to food if you have no choice, but try to have at least 15-20 minutes away from food or liquid, I prefer half an hour."
But remember, as Lambert says, you might just get the same amount of goodness from a glass of water and a balanced diet.
Gallery: 50 Foods That Lower Your Risk of Cancer Gallery [The Daily Meal]