5 ways to make your home feel festive without spending an absolute fortune

House Beautiful (UK)
03/12/2018
A special message from MSN:

While Christmas is a time of joy for most of us, that's not the case for the UK's most vulnerable children and young people. We've partnered with giving platform Benevity to raise funds for two charities - the NSPCC and The Children's Society – to try to help change that. You can help make a difference - please donate now.
We all want to make our homes look fabulous for Christmas, after all, it is the most wonderful time of the year.
But we also know that Christmas is costly for many.
Decorations, presents, catering for guests, etc., there are so many extra costs that can end up digging a deeper hole in our pockets.
But, especially when it comes to decorations, there is no need for a stylish Christmas spruce-up to break the bank. In fact, it's easier than you think.
Video: How to Decorate a Pineapple Christmas Tree (Coastal Living)
Lucy McGilvray, homes expert at Kaleidoscope, shares her top cost-effective decorating ideas.

1. LITTLE TOUCHES GO A LONG WAY
'One of the biggest misconceptions people have when it comes to decorations is that you need to adorn entire rooms with Christmas sparkle in order to transform your home for the festive season. In fact, investing in some key homes accessories which tie in with your existing décor is a great, cost effective way to add a subtle but stylish festive nod to your kitchen, living room, and/or bedroom.
So, why not purchase some scatter cushions or a yule-tide themed bed spread to add some festive cheer in a different way to traditional decorations?'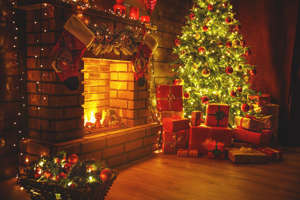 2. SCENT IS KEY
'Diffusers and candles are a wonderful way to add atmosphere to a room, and opting for a red berry or cinnamon scent adds that classic Christmassy feel to your living space. An added benefit is that the natural glow from the candle light will make your home feel cosy and warm – perfect for winding down on Christmas Eve before the festive madness begins!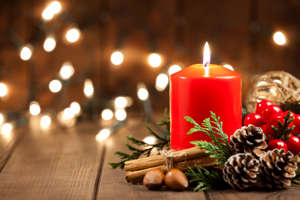 3. STATEMENT TABLE DECORATIONS
'Hosting Christmas dinner is stressful enough, without the added pressure of worrying about whether your guests will judge your Christmas dining table! There are some amazing accessories available which will help to add a Christmassy touch to your table without going completely overboard.
Table runners with a Christmas motif, or elaborate dining chair bows, will allow you to create the wow factor without spending too much money. Investing in a full dinner serving set is also a great investment which will last year on year.'
4. GET CRAFTY IN THE KITCHEN
'Making your own edible gingerbread or cookie creations is a great low-cost way to supplement your existing Christmas decorations, and create a point of interest for your guests – both young and old alike! Pinterest is a great place to look for inspiration, and visiting your local supermarket will provide all the ingredients you need!'
5. TRADITIONAL INVESTMENT PIECES
'Who said the Christmas wreath is old fashioned? It might be known as a more traditional decoration, but there are plenty of real and artificial wreaths on the market in different colours, styles and sizes to suit every room. Adding a Christmas wreath to your front door or even on the wall in your living room or bedroom instantly brings that festive feel to the space, and if you purchase an artificial one – it's an investment piece you can re-use in different rooms year after year.'
Gallery: Christmas trees made of unusual materials (Photos Services)