4-Year-Old Best Friends Insist They're Twins Because They "Have the Same Birthday"

Good Housekeeping
13/11/2017
© Ashley Sarnicola 4-Year-Old Best Friends Insist They're Twins Because They "Have the Same Birthday" Jia Sarnicola and Zuri Copeland are possibly the cutest best friends on the internet right now. The 4-year-old girls from Miami met at school, and when they found out they had similar birthdays, they even had a joint party together. 

Jia, born on June 3, and Zuri, born on June 5, decided to wear matching outfits that day – as besties do, of course - and now they've taken their friendship to the next level by telling everyone they're twins.
"[They have] the same vibrant energy, intelligence, heart to take care of others and both [are] extremely vocal about their needs," mom Ashley Sarnicola told BuzzFeed News. "They love to dance and sing."
My sister and her bestfriend think that they're twins because they have the same birthday and this was the outcome.. pic.twitter.com/x1dCZmIip3

— la loba (@vickto_willy) 5 November 2017
But when a group of girls allegedly told they them that they were "no way" related, Jia decided to clap back. "You don't know anything," she reportedly said. "We are twins because we have the same birthday!"
The incident made her cry, but Jia is sticking by her twin. The besties later told Zuri's older sister Victoria Williams that "we have the same birthday and we share the same soul."  
"They were crying, but they were defending each other," Williams, 23, told BuzzFeed. "It was so sweet." She thought their relationship was so cute that she tweeted about it, and the internet couldn't get enough. 

if she says they're twins that exactly what they are pic.twitter.com/ln5C0ElH9W

— Peachessssss (@Liberiangyal) 7 November 2017
Over 65,000 people have liked her post, with many chiming to insist that Jia and Zuri must be twins.
Related slideshow: 10 low-key genius habits of BFFs who will literally be friends forever (Provided by Hello Giggles)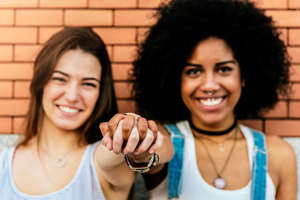 For more of the most popular News, Sport, Lifestyle & Entertainment on MSN, Follow us on Facebook, and on Twitter