Alice no longer bookies' favourite for royal baby name – find out what is

Hello!
13/02/2018
© Copyright ¡HOLA! Hello! Magazine With only two months to go before Prince William and Kate welcome their third royal baby, punters around the UK are placing bets on everything from the child's gender to his or her name.
Alice was the bookies' favourite for a girl, but Ladbrokes now has Mary ahead of Alice, with odds of 7-1. It follows a serious gamble on the name in the north-west of England.
Paddy Power has also slashed odds of the baby being called Mary from 12-1 to 3-1, while also suspending all bets on William and Kate's third child being a girl. After Mary, Ladbrokes has Alice and Victoria at odds of 8-1, followed by Alexandra at 16-1. Albert and Arthur both stand at 12-1 for a baby boy.
"We can't quite put our finger on the link between Mary and the North West, but the overwhelming support means we have a new favourite in the royal baby name market," Jessica Bridge, of Ladbrokes, said.
"Punters are convinced the Duke and Duchess are expecting another little girl, and obviously it would be a lovely touch to honour Her Majesty's grandmother, but it will be interesting to see if any boys' names are backed over the coming weeks before the birth."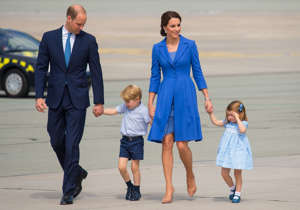 © Dominic Lipinski/PA Wire/PA Images Duke and Duchess of Cambridge, Prince George and Princess Charlotte departing from Chopin airport, in Warsaw, on day three of their five-day tour of Poland and Germany. Mary is a very traditional name with royal connections. It is one of the Queen's middle names and was also her grandmother's name – Queen Mary – who was Mary of Teck and married to George V.

Prince William and Kate will most likely keep it classic when choosing a name for their third child, just like they did for Prince George, four, and Princess Charlotte, two.
Alice was once again the bookies' favourite when Kate was pregnant with her daughter in 2015.
The pretty name would be a nod to Queen Victoria's second daughter, Alice Maud Mary. The late royal was famous for her compassionate nature and relentless advocacy of women's rights – two qualities that would be encouraged in a modern princess.
For more of the most popular News, Sport, Lifestyle & Entertainment on MSN, Follow us on Facebook, and on Twitter