Angelina Jolie shares the empowering advice she gives her daughters

Mirror
09/02/2018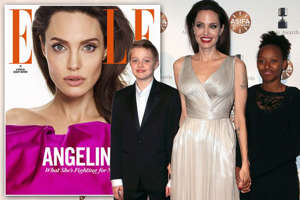 © Provided by Trinity Mirror Plc Angelina Jolie has shared with the world the words of wisdom she teaches her three daughters.

The reveal came as the mum-of-six sat down with former Secretary of State John Kerry for Elle magazine to talk about her campaign against the use of rape and sexual violence as weapons in war.
Touching on the subjects of women's rights, her work with refugees and how she shied away from politics, the 42-year-old actress revealed she hopes to empower her daughters Vivienne, 9, Shiloh, 11, and Zahara,13, and teaches them it's what's inside that counts.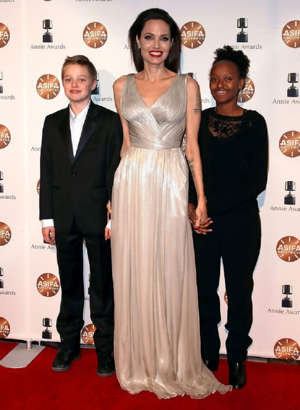 © Provided by Trinity Mirror Plc Angelina Jolie was joined by Shiloh and Zahara at a recent awards ceremony in Los Angeles (Image: Getty Images North America) She said: "I tell my daughters, "What sets you apart is what you are willing to do for others. Anyone can put on a dress and makeup. It's your mind that will define you.

"Find out who you are, what you think, and what you stand for. And fight for others to have those same freedoms. A life of service is worth living," she added.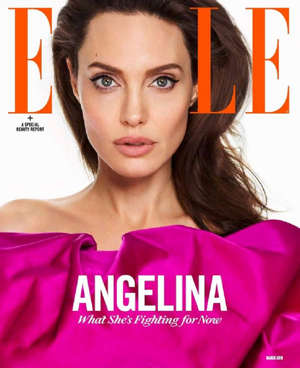 © Provided by Trinity Mirror Plc Angelina's interview appears in the March issue of Elle (Image: Andres Kudacki) As well as daughters Vivienne, Shiloh and Zahara, Angelina is also mum to boys Maddox, 16, Pax, 14, and nine-year-old Knox.
Speaking about her patriotic spirit, Angelina notes she is the only person in her house that was born in America.

© Provided by Trinity Mirror Plc Credits: AFP "It's only because we are a country based on people of different backgrounds and faiths coming together that I can have this family.
"My daughters have the freedoms they have because of being American. And we are at our best when we are fighting for others to have the same rights. Particularly other women," said the actress.
© Provided by Trinity Mirror Plc Credits: WireImage Angelina is now urging world leaders to commit to action to end impunity for sexual violence in war zones.
"I was quite anti-politics when I was young," Angelina admitted, before adding: "I started working on human-rights issues and meeting refugees and survivors mostly because I wanted to learn.

© Provided by Trinity Mirror Plc Credits: Andres Kudacki/ ELLE "I kept meeting refugees who were survivors of systematic rape—rape used as a weapon. Yet there were virtually no convictions. It fired me up to start working with governments and lawmakers.
"When it comes down to it, we still treat violence against women as a lesser crime."
© Provided by Trinity Mirror Plc Credits: MB Pictures/REX Earlier this week it was reported Angelina's divorce with Brad Pitt will continue away from the public eye.

Fans were shocked in 2016 when Hollywood's golden couple announced they were to split after two years of marriage and 11 years of being together.
According to reports by The Blast, a judge has granted the couple a request to extend the temporary judge overlooking their case while custody and distribution of assets will be kept private.
The divorce will include coordinating schedules so both parents can spend time with their brood of children.
ELLEMagazine's March 2018 issue is on newsstands February 20.
For more of the most popular News, Sport, Lifestyle & Entertainment on MSN, Follow us on Facebook, and on Twitter