If you have thick eyebrows it means you're more likely to have THIS personality trait

Hello!
14/06/2018
© Copyright ¡HOLA! Hello! Magazine Most of us have experimented with our brow shapes over the years, from thin 90s styles to Cara Delevingne-inspired heavy shapes – sometimes even getting them permanently tattooed on in the process.
But apparently, if you're more drawn to keeping yours on the thicker side – whether naturally or with the help of an eyebrow pencil – you may also display narcissistic personality traits.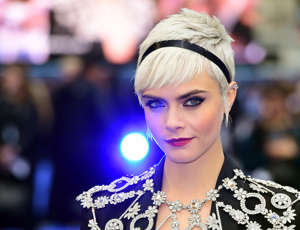 © Ian West/PA Archive/PA Images Cara Delevingne attending the European premiere of Valerian and the City of a Thousand Planets at Cineworld in Leicester Square, London. This surprising claim has been made by scientists at the University of Toronto in Canada, who took photographs of participants before asking them to complete the Narcissistic Personality Inventory – a test that measures levels of narcissism.
The researchers then cropped the images of the participants so that only their eyebrows were visible and showed them to another group, who were able to correctly identify the most narcissistic individuals just by their eyebrows.

It sounds strange, but apparently the more distinctive the eyebrows shape, the higher participants scored on the narcissism personality test. According to the researchers, it may be because narcissists are drawn to the fact that thicker brows give the wearer a more recognisable look.
"Narcissists love attention and admiration, and may maintain distinct eyebrows so that they are noticed, recognised, and remembered," added lead study author Miranda Giacomin, PhD. "This increases their likeability and maintains their overly positive self-views."
Related: 12 Celebrity Eyebrow Transformations Making Us Feel #Blessed For Surviving The 00s (provided by Elle UK)
Given that many of us have sported thicker brows over the past few years thanks to them being such a big beauty trend, it may seem a little far-fetched that everyone who's tried the style is also a narcissist.
However, the brow trend has certainly inspired some zany spin-offs – including the bizarre "garden eyebrow" look – that's mini gardens on your eyebrows. The crazy and surprisingly beautiful idea was the brainchild of vlogger Taylor R, the girl behind the equally zany Christmas tree brow trend. Taylor, a Canadian who lives in Hong Kong and has over 800,000 followers on her Youtube channel, has released a tutorial on how to achieve the look.
A special message from MSN:

Nine million people across all age groups and walks of life in Britain are affected by loneliness. We've partnered with giving platform Benevity to raise funds for three charities - Mind, the Campaign to End Loneliness, and Wavelength – to tackle this debilitating and complex issue. You can help make a difference - please donate now.