Mother's Day: Sons and daughters say 'I love you' to their mum 12 times each month, poll says

The Independent
07/03/2018
© Provided by Independent Digital News & Media Limited Children will say "I love you" to their mother 12 times a month, according to a new poll. 

A survey of 2,000 adults showed that they will hear the words from their offspring face-to-face five times and a further five times using text messaging services like WhatsApp.
Social media and greeting cards will also see the phrase come up twice.
The poll found that young adults were among the most likely to use technology to express their feelings to their mum, with 38 per cent of those aged between 18 to 34 using text messages and another 29 per cent using social media.

But 15 per cent of adults admitted they never said the three words and 14 per cent said they did not tell their mum they love them in person.
Four in 10 said they did not feel they told their mum they loved her as much as they should.
Six in 10 think they should share their feelings with their mum more often, with 51 per cent of women being more likely to feel they don't tell their mum how special she is in person, compared to just 41 per cent of men.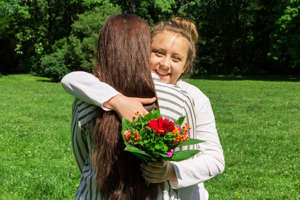 © Provided by Shutterstock Girl gives her mum a bouquet of flowers for Mother's Day. Forty-five per cent of adults wished they said "I love you" to their mum in person more often while 35 per cent said they would like to thank their mother more than they already do.
Almost a quarter of women wish they asked for more hugs from mum, men are not so bothered with just 14 per cent admitting they could do with a hug.
The study, carried out via OnePoll.com on behalf of PizzaExpress, found 58 per cent admitted to taking their mum for granted, with the average adult being at their most ungrateful as a teenager.
More than a quarter believed they took their mum for granted while they were between the ages of 13 and 16.
"We don't spend enough time sharing the things we enjoy with our loved ones and we rarely take the time to tell mum face-to-face just how special she is," said Timothy Love, from PizzaExpress.
To see the video, visit the video section of the Pizza Express Facebook page.
The survey also reveals the five things we wished we said to our mums more often:
1. I love you (45 per cent)
2. Thank you (35 per cent)
3. You're the best mum in the world (25 per cent)
4. Can I have a hug (19 per cent)
5. I'm sorry (18 per cent)
SWNS
Related: Divorced Mum Travels the Globe, Showing How to 'Dress' Like a Local (provided by SWNS)
For more of the most popular News, Sport, Lifestyle & Entertainment on MSN, Follow us on Facebook, and on Twitter