Mum discovers friend who came to visit reviewed her home as if it were a hotel - and only gave it two stars

Mirror
13/06/2018
© Trinity Mirror Shared Services Limited Woman can't believe what friend writes about her online After agreeing to let an old friend stay for the weekend, a woman was shocked to learn that her guest had given a scathing review of her home on social media - as if it were a hotel.
An innocent browse on Facebook revealed the woman had posted an in-depth review of their activities, her cooking and her home for all to see. 

Overall their weekend together was summed up as "okay", but that's about as nice as it gets.
Her friend describes breakfast as "underwhelming", the conversation as "dry" and the wi-fi speed as "poor".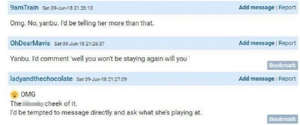 © Provided by Trinity Mirror Shared Services limited Some of the responses to the post on Mumsnet

Despite being treated to nibbles, pizza and wine, as well as a free place to stay for a few days, the woman continues to moan.
Her next target is the guest room.
She writes: "The sleigh bed in the guest room was too high and I bumped on the wooden edge so often I have a bruise. The room was too small."
Related: 6 pretty flower styling ideas (provided by House beautiful UK)
According to the homeowner, who shared her findings in a post on mumsnet , her friend "goes on to critique the decor and waffles on a lot about the tourist attraction she visited."
The review ends with: "All in all I'd give her two stars".
Outraged, the mum asks: "Has she mistaken Facebook for Trip Advisor and my home for a hotel?!"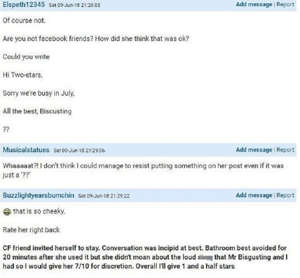 © Provided by Trinity Mirror Shared Services Limited People were outraged by the friend's comments Despite the harsh words, the friend, who initiated the first visit, has already asked if she can come back and stay soon.

People on the site were understandably taken aback by the situation.
One woman wrote: "Are you not Facebook Friends? How did she think this was ok?"
Another added: "OMG. The bloody cheek of it. I'd be tempted to message directly and ask what she's playing at."
A special message from MSN:

Nine million people across all age groups and walks of life in Britain are affected by loneliness. We've partnered with giving platform Benevity to raise funds for three charities - Mind, the Campaign to End Loneliness, and Wavelength – to tackle this debilitating and complex issue. You can help make a difference - please donate now.