Serena Williams slammed for saying she can't wait to give birth and be a 'real woman'

The Telegraph
10/08/2017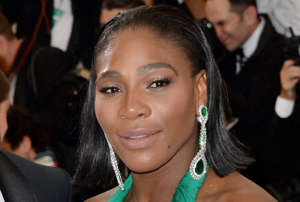 Serena Williams is facing a backlash, after saying that giving birth will make her a 'real woman'.

The 35-year-old, who is due to give birth to her first child with fiance Alexis Ohanian, co-founder of Reddit, next month, has angered fans with the remarks made during an interview with Australian newspaper the Herald Sun. 
"I have so much respect for so many women [for giving birth],' Williams said. "I am about to be a real woman now, you know? It's going to be something incredibly impressive to go through."
'Having a baby will make me a real woman' ... @serenawilliams on feminism, fear & motherhoodhttps://t.co/afNihC4aiZ pic.twitter.com/3rweoEvBc2

— Herald Sun Sport (@heraldsunsport) August 5, 2017
Her comments have drawn criticism, with social media users accusing her of having a 'narrow' world view and questioning whether she thinks those who are unable to have children - or choose not to - are not "real women".
Didn't know I had to have a baby to be a "real woman"..thanks for letting me know @serenawilliams

— Kimberly Joyce (@KimSavinoJoyce) August 8, 2017
Really unfortunate statement from her. All women are real, not just the ones who give birth.

— michael epps (@michael_epps) August 8, 2017
@serenawilliams So, in your view, I'm not a real woman because I CHOSE not to have children? 🤷🏽‍♀️#ChooseYourWordsCarefully pic.twitter.com/HnQYn71Ldt

— RoseFire (@native_amaris) August 8, 2017
you just set women back 50 years. thanks.

— the hill (@philajoyce) August 8, 2017
In the same interview, Williams said:  "I definitely am a feminist. I like to stick up for women and women's rights. So many things happen and I just think, 'Wow, why don't we have a chance?' If that makes me a feminist, I am proud to be one."
She also admitted that watching birthing videos "makes it worse. Having a baby, nothing is guaranteed".
Williams announced she was pregnant via Snapchat in April. She is thought to have won the Australian Open - her 23rd grand slam title - in January when already pregnant. 
Last week, she posted images on social media of her Fifties themed baby shower, which included guests Eva Longoria and Kelly Rowland.
Related: Serena Williams On Her Ambition Of Being Great Mum (provided by HuffPost UK)