My garden shed isn't sexy, but it's better than anything you'll see on the Shed of the Year shortlist

The Telegraph
15/03/2017
© Provided by The Telegraph Tom Chudleigh spent four years creating this spherical nest, which has been shortlisted for shed of the year CREDIT: REX "An Englishman's home is his castle," goes ye olde maxim. What's less well-known is the second half of that saying: "But an Englishman's shed is where he crams all the stuff that won't fit in his castle or that his long-suffering wife won't let him keep indoors anymore."
The 2017 shortlist for Cuprinol's Shed Of The Year contest has been unveiled and this year, it has gone global, joining forces with rural escape website Cabin Porn to seek out the world's best out-houses. Among the nominees are a spherical suspended treehouse (above), a glass pavilion, a lakeside art studio and a clifftop bivouac (below). 
© Provided by The Telegraph Is this a shed? No, it is not CREDIT: REX To most of us, a shed means that humble, tumbledown timber construction at the end of the garden. These creations are more reminiscent of Grand Designs or a glossy Airbnb brochure. They're not proper sheds. A real shed doesn't need a swish designer rebrand – it just needs a coat of paint and a bit of a clear-out. 
Man's need for a small space of his own started with prehistoric caves, which have evolved into sheds and garages. Or as they are often known today, "man caves". Sanctuaries where we can fritter away time on fleeting hobbies (homebrew, or that half-formed idea for a screenplay), unsuccessfully repair stuff (this toaster's still got some life in it), store our accumulated junk (really should put those old football programmes on Ebay) and generally carve out some bloke-time. 
While women love to "declutter", men prefer to collect. Hence our sheds basically become an al-fresco loft or a super-sized version of the "man-drawer" that comedian Michael McIntyre famously riffs a whole routine around – that one place in every house that's chock full of phone chargers, lightbulbs, batteries, old keys, appliance instructions, takeaway menus and foreign currency.
A textbook shed should smell of damp, grass cuttings and creosote. There should be cobwebs with dessicated spider corpses at their centre. When you open the door, you should have to dodge something falling out at you – a lawnmower handle, a folded-up garden chair, or a rusty Swingball set.
My own 8ft x 6ft shed is ostensibly a "garden office", purpose-built five years ago when the arrival of our second child evicted me from my indoor study and to which I now make the arduous 20-second commute each morning to write articles like this. I can't imagine life without it. Judging by the jealous noises that most of my male friends make when they see it, they want one too.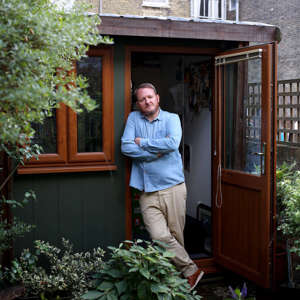 © Provided by The Telegraph Michael Hogan and his sanctuary CREDIT: CLARA MOLDEN/THE TELEGRAPH It's become my HQ, my mind palace, my bolthole. The place where I work, think, potter and play. "Just nipping out to get something from the shed," I'll call to nobody in particular on a Sunday, then still be in there two hours later, tinkering away while cricket commentary burbles on the radio. 

But even my work haven is morphing into an old-school shed. Slowly but surely, it's becoming home to children's scooters, bags of barbecue charcoal and mud-caked trowels. It won't be long until I'm sitting on an upturned terracotta plant pot, reaching over some trellis to type and occasionally getting tangled in a badminton net.
With property prices ever more preposterous and space at a premium, sheds are often a solution to suit growing families that would otherwise have to upsize. Us "sheddies", as we're called, are a growing breed. Health experts say sheds even help us live longer, with tangible stress-relieving benefits. Sheds help keep love alive too: 80pc of men say their relationships are better for having one .
It's probably why I've heard talk of a growing trend for "she-sheds" among women – think Cath Kidston, and Farrow & Ball, as opposed to splinters and old tins of paint – but my partner has never expressed an interest, except to enquire what I get up to in mine (nothing remotely interesting, honest). By and large, the shed remains a male domain. 
And it is weeks like this, when my shed comes into its own. Wind is no longer rattling the windows, rain has stopped pattering on the tin roof, and my pride and joy is bathed in sun for half the day. I might leave the door ajar for the first time in months, enjoying the spring air, birdsong and distant wail of sirens until goosebumps bring me to my senses. 
A true man-shed might not be chic or even comfortable. But this is a space for all seasons, battered by the elements but loyally waiting for us to undo the padlock and step inside. Surely, they don't have to succumb to the creeping over-design of the modern world? Everywhere else nowadays resembles a Scandinavian airport lounge, boutique hotel lobby or hipster coffee shop. Let's keep our sheds as they're meant to be: eccentric, grubby, and full of woodworm and wonder. They might not win Shed Of The Year but they've won a place in our gardens, not to mention our hearts.
Check out the Shed of the Year finalists of 2016