The five interior design rules that will TRANSFORM your home - and why following the 10-30-60 rule is key

Daily Mail
06/09/2018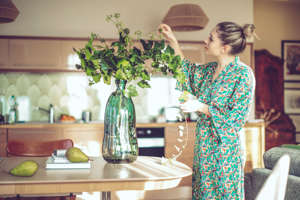 Beautiful homes don't have to belong only to those with a design degree.
If you employ these five basic design rules, you can turn your property from a cluttered space into a chic home.
Better Homes and Gardens revealed the rules, and how they should be followedto achieve luxury style on a budget.
Here, FEMAIL takes a look at the top tips.
Download the Microsoft News app for your Android or iPhone device and get news & live updates on the go.
Utilise odd numbers
Similar to the rule of threes in art, designers recommend that people follow the rule of decorating the home with odd numbers.
This is because grouping items together, be it on a coffee table or shelf, creates visual harmony. 
© Provided by Associated Newspapers Limited 'It helps if the grouping of items includes trinkets of different heights, shapes and textures,' the publication said.
Even though there needs to be some difference in the products, there should be a cohesive colour or theme. 
Follow the 10-30-60 rule
© Provided by Associated Newspapers Limited Once homeowners have decided what colours they want to decorate their house, they need to make sure they work cohesively.
Following the 10-30-60 rule means firstly picking a dominant colour that will take up 60 per cent of the room and should be a relatively neutral shade.
The secondary colour makes up 30 per cent and should be a bolder colour that is used for items like the furniture.
The accent colour is the last 10 per cent and should be used for cushions, rugs, throws and accessories.
Find your focal point
© Provided by Associated Newspapers Limited Most interior designers recommend having a focal point in a room to draw the eye.
What this feature is is entirely up to whoever is styling the room but it could be anything from a dramatic mirror or artwork hung over a fireplace or a statement piece of furniture.
This piece should catch the eye as soon as people enter the room and other aspects of the room should be arranged around it.
Related: The hack that will give you so much more space in your kitchen (Southern Living)
Respect negative space

Better Homes and Gardens recommended that people should leave parts of their walls bare as it allows for breathing space for furniture.
It also allows the room to feel curated and helps get rid of clutter.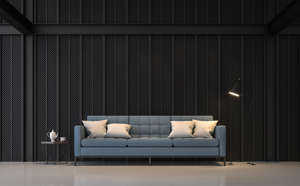 © Getty Know common measurements

To get the balance in your home right you need to know basic measurement rules for key pieces.
© Provided by Associated Newspapers Limited 'Leave about a 40 centimetre space between sofas and coffee tables. When hanging art on the wall, the centre of it should be at eye level, usually around 140 to 150 centimetres from the floor,' the publication said.
Meanwhile, curtains should be around ten centimetres above your window frame.  
Related: 6 ways to add a Parisian touch to your home by Sézane's Morgane Sézalory (HouseBeautiful)