Thousands left kicking themselves after man shares obvious dishwasher hack

Prima (UK)
31/01/2018
© Hero Images / Getty Thousands left kicking themselves after man shares obvious dishwasher hack Twitter is an entertaining and sometimes bizarre platform where posts on a wide variety of subjects can go viral.

This is exactly what happened to Mike McLoughlin's update, who tweeted his happiness and frustration at finding out how to properly use his dishwasher after 10 long years.
Under the username @zuroph, Mike from Ireland tweeted: 'I moved into this house in 2008. It always annoyed me that the lower level of the dishwasher wasn't tall enough to fit my biggest dinner plates. Been hand-washing them all this time. This week I discovered you can raise the upper shelf and all my plates fit fine. TEN YEARS.'
Unaware you could adjust the height of the dishwasher shelves, poor Mike was left to hand-wash his big dinner plates for a decade. He just thought that his dishwasher wasn't designed to take larger plates.
In my defence the dishwasher came with the place and the manual was gone. Googled the manual this week when I ran into an issue with something unrelated and there it was pic.twitter.com/XPUwDCadcc

- Mike Mc Loughlin (@zuroph) January 26, 2018
His post has been liked more than 85,000 times and been shared by almost 15,000 people.
It appears he's not the only one who wasn't aware of this dishwasher hack, with many fellow Twitter users saying they had been doing the exact same thing and that his tweet had been eye-opening.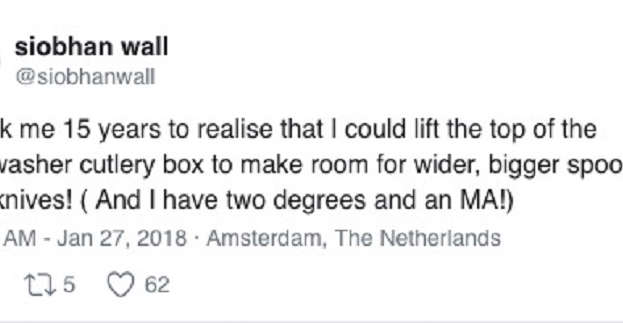 Twitter
© Provided by National magazine company ltd (Hearst UK)
Now Mike jokes he's 'Ireland's leading dishwasher influencer'...
Lol. "Ireland's leading dishwasher influencer"

- Mike Mc Loughlin (@zuroph) January 29, 2018
Will you be adjusting your dishwasher tonight?
For more of the most popular News, Sport, Lifestyle & Entertainment on MSN, Follow us on Facebook, and on Twitter