'Come with a $75 gift, only wear a ponytail and DON'T talk to the bride': Shocked guest shares the ultimate bridezilla's strict wedding day 'rules'

Daily Mail
20/09/2018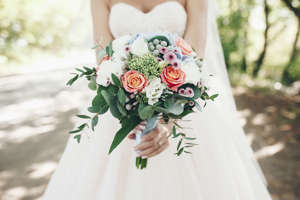 A horrified wedding guest has shared a bizarre list of rules emailed to her by a 'bridezilla' ahead of her nuptials.
Taking to a social media forum, the bemused guest revealed the lengthy list of regulations from the bride's 'wedding coordinator', which included strict demands for all female attendees to wear their hair in a ponytail or 'basic bob' and a ban on speaking to the bride.
Download the Microsoft News app for your Android or iPhone device and get news & live updates on the go.
Describing the rules as 'hilarious', the post received a massive response with over 1,200 likes and 859 comments.
After introducing themselves as the marriage planner, the sendersaid they were reaching out to all guests to confirm a final head count for the day.
A lengthy list of 'rules and regulations' followed, starting with a request that all invitees should arrive between 15 and 30 minutes early.
Guests were strictly prohibited from wearing white, cream or ivory, while full faces of makeup were also banned.
'Do not record during the seramony (sic)' and 'do not check in on Facebook until instructed' were also limitations placed upon family and friends, while a dedicated hashtag had to be used for any wedding related images posted on social media.
'DO NOT TALK TO THE BRIDE AT ALL,' the list continued, finishing with an instruction that all guests must bring a gift valued at $75 or more to gain admission.
The post attracted a stream of attention online, with a flood of comments poking fun at the stringent demands.
'The best way to respond to this is to RSVP yes and then not attend – that would make the bride so furious she would probably send a bill,' one user said.
Another commenter joked that they would 'pay $75 to go to this wedding and watch the drama'.
'Sending a list like this is just going to guarantee that your guests won't follow common wedding etiquette.
'I would wear my own wedding dress with a full face of makeup, hair in an up-do and trainers while screaming gibberish at the bride and take a whole photo team with me,' an amused user joked.
Related: What's it like marrying at a mass wedding? (Provided by Sky News)