From announcing your pregnancy to showing up late to the ceremony - These are the worst things you can do at someone else's wedding

Independent.ie
24/08/2018
Ask anyone and 'wear white' will usually be first to mind. But in this Instagram age of dramatic backdrops and OTT romance, 'propose to your partner' has had to be added to the ever-growing list of nuptial no-nos.
Of course there's basic etiquette such as not RSVPing, or turning up late to the ceremony, but with weddings now being planned with military precision, turning up with a plus one or messing with the table plan could also cause some sideways glances (at best) on the day... and we haven't even started on the hot potato that is children at weddings (them sticking their fingers in the cake, as kids are want to do, is apparently something to look out for!)
So what is the worst thing you can do at a friend or family member's wedding?
Related: Most popular places to pop the question (Provided by Cover Video)
The question had left Reddit user mortimerza pondering, so he took to the 'ask' thread of the popular forum to find out what other guests (and newlyweds) thought.
The post has amassed over four thousand responses in a matter of hours, so it's clear that people are eager to share their bug bears when it comes to the big day.
Here's what they came up with...
What's the worst thing you can do at someone's wedding?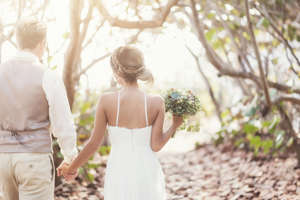 "Steal their thunder by proposing to your partner... Even when they have permission, it still seems rude as hell."
"Show up with your kid despite being told it's a kid-free wedding."
"Show up 15 minutes late to the ceremony..."
"Announce your pregnancy."
"Make a toast if you were not invited to do so."
"Show up with a plus one (or plus three) despite not having a plus one."
"Let your children run around at the reception and stick their fingers in the wedding cake."
"Call attention to yourself in any way shape or form. If you go to a wedding and no one remembers you mission accomplished."
"RSVP that you will be attending and then don't show up - The couple will still have to pay for you as if you did come, and they probably would have invited someone else if they knew that you were unable to attend."
"Get seconds at the buffet if not invited to do so."
"Show up without RSVPing."
"Show up in jeans when the invite says formal."
"Recently attended a wedding that had three very talented photographers but everybody still had their phones up and out taking videos and pictures. Not the worst thing, but just annoying and inconsiderate."
"Rearrange the seating chart that was worked on for a long time because you weren't happy with it."
"Find and light the sparklers that are meant for the sparkler exit."
"Make everything about yourself and bother the bride and groom about it."
"Drink too much and throw up - especially if it is an open bar."
"Compare your wedding to theirs - and tell them how it should have been done."
"Leave straight after the dinner."
"Wear white."