Tokyo primary school introduces Armani uniforms for pupils costing more than £500

Evening Standard
09/02/2018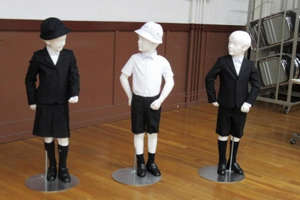 © Provided by Independent Print Limited an140627686this-undated-pho.jpg Provided by Independent Print Limited an140627686this-undated-pho.jpg

A primary school in Tokyo has announced plans to introduce £500 Giorgio Armani uniforms for its students.
Parents of children attending the Taimei Elementary were shocked to discover the school is introducing the new uniforms for incoming pupil.
They will have to fork out more than 80,000 yen (£525) for the uniform, including optional items, which is more than three times the amount of the previous garments.
The school is located in the upmarket shopping district of Ginza, with the Armani Japan head office just 200 metres down the road.
A shocked mother told the Huffington Post: "I was surprised, and wondered why such luxury brand-designed uniforms have been picked for a public elementary school."
The women, whose child is set to start at the school in April, added: "I'm worried that a wrong notion that something expensive is good and something cheap is bad could be imprinted on children."
In a letter to parents last November, headmaster Toshitsugu Wada said Taimei was a landmark in Ginza, and the decision to adopt the Armani-designed uniforms aimed at creating an atmosphere suitable for such a school, the Huffington Post said.
Following the backlash Wada posted a statement on the school's home page, promising to provide sufficient explanation on the plan for new uniforms.
"With humility, I take the criticism that explanation has been insufficient and not well-timed. I will go on explaining carefully to those concerned," he wrote.
Related: 6 Truths About Being an Extroverted Parent, According to Experts (Provided by POPSUGAR)
For more of the most popular News, Sport, Lifestyle & Entertainment on MSN, Follow us on Facebook, and on Twitter