'When I Suddenly Became The Breadwinner, Everything In The Family Changed'

Grazia
10/02/2019
Editor's note: The opinions in this article are the author's, as published by our content partner, and do not represent the views of MSN or Microsoft.
I was never someone who asked for more money at work. My husband Matt, on the other hand, always knew his value. We had the same experience as journalists, but for the first decade of our relationship he was generally earning £20,000 a year more than me. At the time, I was happy to assume the lower income role, consumed by a lack of confidence and a deep sense that I was lucky to simply be there.
Then, four years ago, he lost his job – on the day we got the keys to our new home. And in that moment of sheer financial desperation, my role transformed into something more primal: a need to keep a roof over our heads and bring cold, hard cash to the table. I'll never forget the weeks that followed his redundancy. We were in a grey, numb fug, trying to remain chipper for our 18-month-old daughter. She was a gurning, bumbling reminder to me of what we had to support, and that responsibility was like carrying a rucksack of bricks around. Matt immediately entered the freelance writing world, pitching and interviewing at every turn, but it was a slow game.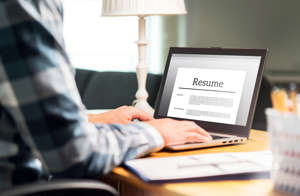 While I wanted to talk about the financial fear that weighed down on our shoulders, my husband chose a clam-like approach, insisting all would be fine – until a month after he lost his job, I broke down on a floor smattered with discarded peas and Lego. I remember shouting across the kitchen (eyes streaming with 'black tears', as my daughter refers to a mascara-laden cry) that I could take financial ruin, but I couldn't take this eerie silence.
That moment felt like a boil had been lanced – finally, there was an acceptance that we had to address this, and acknowledge how this was affecting us both. It became clear that the pressure I now felt had been on my husband's shoulders since the day we met. He had always been the primary provider – the gatekeeper of tangible hopes and dreams. He'd carried almost everything to date, and it was my turn to offer a hand.
Since that moment, through a mixture of necessity, fear and sheer determination, I've let go of my reticence to talk money at work. Having worked in my husband's shadow for 15 years, I now earn 100% more than he does from his freelancing. I work as a presenter on Heart Radio, create branded content on Mother Pukka – the parenting platform I launched in 2015 – and am currently co-authoring a parenting book with Matt. I am the main breadwinner now, after years of only shuffling a few crumbs on to the table every month; meanwhile, he does the bulk of the childcare.
On paper, this set-up makes for a thoroughly modern marriage. Look around and you'll see hordes of men now rolling up their sleeves and entering a world of so -play dates. Take, for instance, Hewlett Packard CEO Carly Fiorina's husband or former Yahoo boss Marissa Mayer's man, who are routinely photographed clutching their offspring. But for us, there has been an emotional cost with this fiscal shift. While Matt loves our kids intensely, he would be happier with a balance that would allow him to go to the toilet on his own and drink hot coffee occasionally without hollers of 'Papa, I need wee wee.'
Our two children, who are five and one, ask for him in the night, which can be painful for me – though sometimes there's a secret sense of relief when I'm exhausted. He knows when they need their jabs and where to find the Calpol in the underbelly of our medicine cabinet. Still, every time they reach for him when I'm cuddling them, or can only be soothed by him after a scraped knee, it really hurts. It's like the roles have reversed and, in a cruel twist of fate, neither of us has what we really want. That ever-elusive balance is sitting there, perpetually out of reach.
Our day-to-day is punctuated with everything from passive aggression over dishwasher stacking to a slight sense of resentment on his part about his expanded parental load – something the new feminist heroes are not allowed to mutter for fear of losing their newfound titles. Throw in frustration over meetings and deadlines that have to be put on the back-burner and you're edging into relationship stalemate. But we've navigated our new financial and familial responsibilities with a regular airing of dirty laundry. Money chat is firmly on the table now, and we have a joint account that's ours, not mine or his. We put everything in that – even though my mum once whispered in my ear that I should 'keep some back, just in case'.
Who knows what the future might hold – Matt might decide to go back into full-time employment when the kids are older. But one thing I do know is that I'm over being made to feel 'lucky' that I'm successful at work. I'm lucky to have found my husband, and that's the bottom line.
Related: 9 ways to strengthen your relationship [Insider]