This man transformed his body in just 9 weeks - without a personal trainer or nutritionist

Evening Standard
03/01/2018
© Provided by Evening Standard Limited It's around this time of year that searches like 'weight loss tips' and 'how to lose weight fast' spike in Google.
With the New Year comes a new start and time to shed the festive season pounds before bikini season rears its ugly head.
But by the time February comes around, many of us have fallen back into old habits. Blaming the cold weather for our lack of gym motivation and increase in comfort foods.
However, what if we told you that you could completely transform your body in just nine weeks?
David Morton has done just that. The Deputy Editor of Men's Health UK spent nine weeks following the workouts and diet advice on the Primal9 app and lost just over a stone and an incredible 4 per cent body fat.
'This is not my first physical transformation in the name of Men's Health,' Mr Morton told the Standard. 'Four years ago, I lost two stone and gained a new attitude to fitness with 12 weeks of intense one-to-one personal-training sessions. It changed my life.
Related: Do these 18 things to start losing weight right now (Provided by Popsugar)
'But everything else has changed since. I am now married with kids (boys, aged two and one) and spend three hours commuting every day. I'm in my mid-thirties and my hair is falling out. In short, I am the average man: busy, tired and increasingly eager to get and stay fit.'
Using only the app, the 34-year-old was able to transform his physique without the help of a personal trainer or nutritionist.
© Provided by Evening Standard Limited (Philip Haynes) Morton explained: 'My diet was not restrictive or repetitive. Instead, I tried to eat more whole foods, less sugar and had the majority of my carbs after the gym.
'So lots of fish, eggs, chicken and vegetables. In fact I put away 27 chickens and 189 eggs over the course of the 9 weeks.'
Those nine weeks weren't strictly puritanical, as during that time David had his wife's birthday and two weddings to attend - so he allowed himself to eat whatever he wanted over those weekends and get back on track during the week.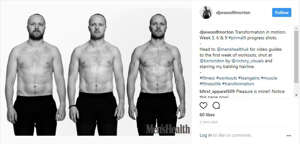 So what is Primal9?
A collaboration between Men's Health and athlete Ross Edgley, Primal9 is described as a 'nine-week training and nutrition programme that strips fitness back to its most raw and real, using primitive movement patterns and minimal equipment to make you leaner, stronger and more powerful.'
Using the app, Morton worked out for 45 minutes per day Monday to Friday which gave him the weekend free.
He added: 'There were no scary moves or heavy weights – just lots of good bodyweight and basic weighted exercises.'
If you're looking to kick-start your weight loss for 2018, this may be the answer.