Obviously, The New Royal Baby Will Be Raised Differently To William And Kate's Children

Grazia
20/04/2019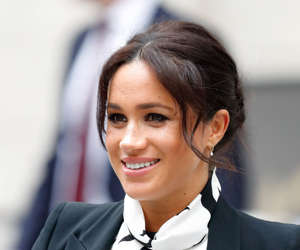 Editor's note: The opinions in this article are the author's, as published by our content partner, and do not represent the views of MSN or Microsoft.


As we creep closer to Meghan Markle's due date, the excitement of a new royal baby is reaching new heights. The questions we all want to know are hastily being answered, from whether we'll see the baby outside the Lindo Wing as is protocol with Kate and William, to whether the baby will have a royal title, more information is coming through thick and fast.
Of course, a lot of this information indicates a divergence from what we've come to expect of the lives royal children, with our only real insight coming from Kate and William's children. But there is a very simple answer as to why Meghan and Harry won't be following the same path as the Duke and Duchess of Cambridge, and it's all down to royal protocol. Here, we've explored all of the ways baby Sussex will be raised differently to our beloved Prince George, Louis and Princess Charlotte- with all the reasons why
Their first public introduction won't be on the steps of the Lindo Wing
Confirmed this week by royal photographers, there has long been speculation that Meghan and Harry won't appear with the baby immediately after birth. 'At this point with Kate's babies, we'd been briefed by the Palace, but we've had no briefings whatsoever,' Shutterstock photographer Tim Rooke told Cosmopolitan, 'At this time, at St Mary's for all the other three births, there was parking restrictions and all sorts of other things, and there's none of those.'
Honestly, thank God – no one needs to be hoisted into tights and full contour straight after delivering a baby.
The baby won't automatically be given a royal title
According to royal rules implemented by King George V back in 1917, the Duke and Duchess of Sussex's baby is too far down in the line of succession to be a Royal Highness, sitting at no.7. However, the Queen can use her Letters Patent – the decree that allows her to give orders without involving Parliament – to grant a royal title if she so chooses. She gave the same privilege to all of Kate and Williams kids, but it's unclear whether Meghan and Harry actually want their child to have a royal title or not. Given their wish for privacy, and Harry's outspoken reluctance for being part of the royal family as a child, it's unlikely.
The baby will spend more time in the US
Unsurprisingly, given Meghan is American, her baby will acquire American citizenship at birth. According to royal sources, Meghan is planning to celebrate various US traditions including Thanksgiving and Independence Day.
Baby Sussex is likely to have more of a private life
According to royal insider Katie Nicholl, Meghan and Harry want to raise their baby as 'normally as possible, away from the cameras and with real family values.' She told Grazia, 'It's one of the reasons they're leaving London, so that their child won't be put in the spotlight the way Harry was.'
The Sussex's won't hire a professional nanny
While this could change once the baby is born, there are currently no plans for Meghan and Harry to have professional help raising their child. According to Nicholl, Doria Ragland – Meghan's mother – is 'planning to come over for the first weeks to help out'.
They won't be as subject to royal tradition
As well as having a gender-neutral nursery, decorated with grey non-toxic paint, Nicholl also states that Meghan and Harry have a more modern approach to parenting than royal decree dictates. 'Meghan has her own ideas when it comes to raising their baby,' she said, 'Given her form for doing things quite differently to royal traditions, I'm sure her approach will be quite novel. I don't see her pushing her baby around in a big old-fashioned pram, for example. She'll probably have the baby in a sling or hi-tech buggy.'
Gallery: Royal residences: A guide to the British monarchy's homes [Wonderwall]