'I was trying until there were no embryos left': Brigitte Nielsen discusses her relief at welcoming daughter Frida at 54 following a decade-long IVF battle

Daily Mail
11/02/2019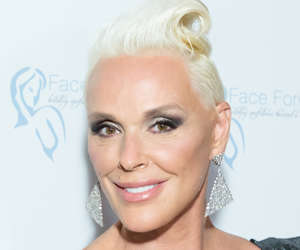 Brigitte Nielsen has discussed her relief at welcoming daughter Frida last June, aged 54, following a decade-long IVF battle. 
The now 55-year-old movie star, who married to Italian TV producer Mattia Dessi, 39, in 2005 told The Guardian that she was trying [to get pregnant] until there were no embryos left.
Doctors had only given her a 2.5% chance to conceiving but Brigitte never gave up hope, saying, 'someone has to win the lottery.' 
Brigitte said that having Mattia completely on-board with her journey, meant that she was able to endure all she had to go through. 
She said: 'You're on a lot of medication. It is very expensive. Hormones will do different things to different women. 
'You always think you are going to get pregnant, but most of the time, the phone call comes and it's "I'm sorry". It's devastating.'
Brigitte was advised by her doctor not to tell anyone when she did fall pregnant, until she was 27 weeks along, so she didn't even tell her own mother.
She admits to having to fight against some of the criticism she has faced after becoming a mother later in life.
© Provided by Associated Newspapers Limited Happily married: Brigitte married Italian TV producer Mattia Dessi, 39, in 2005 and said people mocked their romance due to their age difference 
She said: 'Some find it ridiculous, some find it awful and some love it. I don't think it's anyone's business. It's my husband and my life and we love what we do.' 
Nielsen was previously married to Raoul Meyer from 1993 to 2003, Sebastian Copeland from 1990 until 1992, Sylvester Stallone from 1985 until 1987 and Kasper Winding from 1983 until 1984.
She already has sons Julian, 34, Killian, 28, Douglas, 25, and Raoul, 23.
Brigitte only revealed her pregnancy news to the public just three weeks before she gave birth to her 5 lbs. 9 oz bundle of joy.
© Provided by Associated Newspapers Limited Her ex: Nielsen was previously married to Sylvester Stallone from 1985 until 1987
She said: 'We are overjoyed to welcome our beautiful daughter into our lives,' she told the site. 'It's been a long road, and so worth it. We've never been more in love.'
Gallery: Trying to Get Pregnant? Avoid These 6 Foods That Could Be Affecting Your Fertility [POPSUGAR]