How Princess Charlotte greets guests when they arrive at Kensington Palace

Mirror
14/09/2018
© Getty Images Europe Princess Charlotte is very confident Kensington Palace is a stunning historical building, which is a popular tourist attraction and a royal family favourite since the 17th century, but for Princes George and Louis and sister Charlotte it's just home.
The Duke and Duchess of Cambridge are raising their children in an apartment in the huge complex, and Prince Harry and Meghan Markle live just a few doors up. 

Kate and William are desperately trying to give their kids a normal upbringing - or as normal as possible considering they're three of the most famous children in the world.
Download the all-new Microsoft News app – available now on iOS and Android
And just like lots of other kids her age, it sounds like Princess Charlotte loves playing host when people come over to see the family.
© WireImage Meghan knew what she was doing - and it wasn't before these two loved Auntie Meghan A source told US Weekly the three-year-old Charlotte asks all guests "if they want tea, coffee, or sweets". 
How cute! We'll have a cup of tea please!
Watch: Princess Charlotte facts that will make her your favorite royal (Cosmopolitan)
Princess Charlotte started back at Willcocks Nursery School last week, which is just around the corner from Kensington Palace.
© PA Kensington and Chelsea Council said the basement would be of "economic benefit" to the nation Her big brother Prince George also returned to school, heading into Year 1 at St Thomas's in Battersea, London.
Last year the Palace released official photos of their first days, but we didn't get them this year as it's only traditional on the first day they start a new school.
The photos of Charlotte were taken by her mum Kate, and Charlotte looks relaxed and excited for her big day.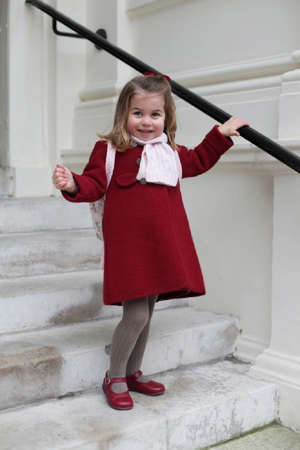 © (Image: Publicity) Kate took the adorable photos of Princess Charlotte on her first day of nursery We haven't seen the kids for several weeks as they've been enjoying a private summer like the rest of the royal family.
Princes William and Harry and Meghan Markle are now back to work, and are working through a busy autumn diary, but Kate is still on maternity leave.
Related: Cutest pictures of Prince George, Princess Charlotte and Prince Louis (Photos Services)