How to survive Monsoon June

Evening Standard
11/06/2019
Summer has been postponed. Temporarily, we hope, although it's now so damp that it's hard to know for sure if the sun still exists behind the endless grey, sodden clouds. Instead we are a city soaked, as a whole month's worth of rainfall came tumbling out of the skies in a single day yesterday — and there's no let-up in sight. When it rains, it doesn't just pour, it throws in the whole kitchen sink.
Someone is to blame, no doubt. Box-fresh white trainers have been besmirched, traffic is at a standstill, and Rory Stewart is probably trapped in a steamed-up Morley's somewhere glumly updating his BBC weather app while it hammers it down outside. 
But while Monsoon June glowers around London this week with the moody insouciance of a teenage exchange student unimpressed by Leicester Square's M&M's World, it makes sense to have some fun without the sun. Here's how to stay right as rain.
Rain check, please
The sky is heavy but your schedule is suddenly clear: no barbecue to host, no camping weekend to withstand, no outdoor personal training session to endure.
This is time back. Embrace it. Rehibernate, re-educate, and devour a good book like Candice Carty-Williams's Queenie. Or a boxset. A Radio Times survey this week found that half of all viewers have spent eight hours or more watching back-to-back episodes of the same show. So, this precipitous period of precipitation is an excuse to burn through Chernobyl and Killing Eve guilt-free, unbothered by the suggestion of sun peeking through the window blinds.
The return of Big Little Lies should, at the very least, provide temporary escape to sunny California. Live vicariously.
Dial down the rain rage
Listen, the wet stuff isn't personal. Yet the impulse to text, tweet or update your bedraggled status does seem to compel a scramble for an emotional response to every atmospheric disturbance.
"If you complained about the heatwave last year this weather is your fault" might be an example of a damp reflection but we get it. By all means go to your windows. Open them and stick your head out and yell: "I'm as mad as hell and I'm not gonna take this — bleurgh — agh — wet!" as your mouth fills up with rainwater. Far better to go outside and make the most of it.
Wear protection
Consider this a serendipitous opportunity for your warm-up (or cool-down) for late-summer festival weather. The general rule is to top-and-tail your look with the right outerwear and footwear. Lightweight packables are also in.
K Way, Hunter, Rains and Stutterheim are one-stop shops to turn your waterlogged trudge into a sprightly catwalk.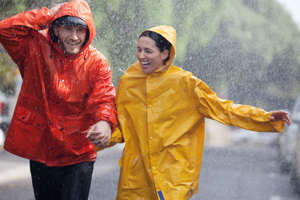 Every cloud...
Indeed, you might want to look on the bright side. In 2017, Vice reported on a surge in the number of people on website Reddit's "Anxiety" channel who found that bad weather — grey skies or the sound of raindrops — provided a "soothing congruity between mood and external stimuli".
There's some academic weight behind this. "The brain naturally craves sensory input," Kimberly Hershenson, a New York City-based therapist specialising in anxiety and depression told Vice. "Rain produces a sound akin to white noise. The brain gets a tonic signal from white noise that decreases this need for sensory input, thus calming us down."
Embrace the unpredictability... for now
Weather apps remind us that nature is erratic. "It's meant to be clearing up around now," you'll say cheerfully, as lightening crackles overhead. The future looks brighter: the Met Office is hoping to map the UK's "microweather" better with the rollout of the 5G network (phone signals generally get weaker when it rains, which helps plot weather patches on a more granular scale). For now, embrace fate. Or the best forecast you can find.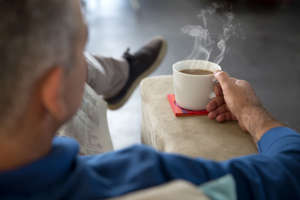 Delayed gratification
Provided you haven't scoffed at the falling bee population by swapping out your lawn for artificial astroturf, this one's for you. London will declare itself the first National Park City at the end of July, thanks to its surfeit of juicy green spaces and urban oases.
The week's unseasonal showers are doubly welcome among biophiles: a lusher summer is more likely, and all the parklands are emptier. Postpone any expensive hair treatments, don your brightest raincoat, turn up your lapels and off you splosh.
MSN are empowering Women In Sport this summer. Find out more about our campaign and the charity fighting to promote the transformational and lifelong rewards of exercise for women and girls in the UK here.
Gallery: 23 Genius Ways to Maximize Your "Me Time" [Best Life]