One in six people think Santa should be gender neutral

PinkNews
05/12/2018
Editor's note: The opinions in this article are the author's, as published by our content partner, and do not represent the views of MSN or Microsoft.
A special message from MSN:

While Christmas is a time of joy for most of us, that's not the case for the UK's most vulnerable children and young people. We've partnered with giving platform Benevity to raise funds for two charities - the NSPCC and The Children's Society – to try to help change that. You can help make a difference - please donate now.
More than one in four people in the US and UK would rather Santa was female or gender neutral, according to a new survey.
The poll showed that when more than 4,000 people were asked what gender Santa would be if they could rebrand the mystical present-giver for modern society, more than one in 10 would opt for a female Claus.
And more than one in six—17.15 percent—would prefer a gender-neutral Saint Nick, meaning that overall, 28 percent of people would ditch the traditional male version of Santa if given the choice, according to the survey by GraphicSprings.
Santa's gender is a hot-button issue
The issue of what gender the fictional being who travels the world in a matter of hours to hand out presents to children should be has taken on a new significance in recent times.
Despite existing on a level of reality with the Easter Bunny, Tooth Fairy and Pikachu, many are convinced that Santa cannot be seen as anything other than an old, white man.
Arun Chandran, a Labour Party councillor for Newton Aycliffe in County Durham, England, moved to ban female Santa Claus impersonators from taking part in the annual parade last month.
"I think the kids would be confused if they got to see Father Christmas and it was a woman"

— Linda Robson
He said that the concept of women dressing as Santa Claus was "a form of political correctness," adding that it was "a male role."
The issue was the focus of a debate on ITV's Loose Women on November 28, with panellist Linda Robson arguing: "Father Christmas is a man as we all know, and I think the kids would be confused if they got to see Father Christmas and it was a woman, so I think we should keep it as it is."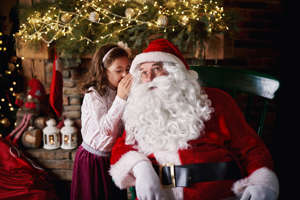 In contrast, Stacey Solomon said that so long as the costume resembles Santa Claus, it didn't matter who was wearing it, arguing: "Is this female Santa wearing a beard and hat? So what does it matter what's underneath?"
The issue was also discussed on ITV's Good Morning Britain, with anti-trans host Piers Morgan insisting that Father Christmas is "male."
The haters don't have a monopoly on Santa
This normativity hasn't stopped a host of individuals and companies deciding that Santa can be anything anyone wants them to be.
Last week, New Zealand's Ponsonby Central shopping complex unveiled a gender fluid Santa Claus as its Christmas display, with the jolly giant—who was modelled on Mary Poppins—wearing knickers and fishnet stockings.
The display had reportedly been planned since August, but was coincidentally unveiled in the same week that the country's Leader of the Opposition Simon Bridges mentioned Mary Poppins while saying Santa should be played by men.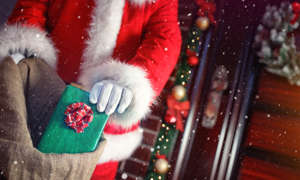 Bridges, who heads the centre-right New Zealand National Party, told Three's radio programme The AM Show: "Mary Poppins is a woman, Santa Claus is a man. That's how it should be."
He continued: "I think it's just PC gone—I don't know if it's mad, but too far. You guys this morning are telling me that man didn't walk on the moon, now you're telling me Santa's a woman.
"I just want a few things I can believe in."
And last year, writing couple Daniel Kibblesmith Jennifer Wright released Santa's Husband, a children's book depicting Saint Nick as gay, black and married.
Gallery: 10 DIY Christmas Trees So Fun, You Won't Ever Want To Take Them Down [House Beautiful]