Adriana Lima announces she's retiring from Victoria's Secret Fashion Show after 20 years

Mirror
09/11/2018
© Getty Images AsiaPac This year's show will be the supermodel's last Adriana Lima has announced this year's Victoria's Secret Fashion Show will be her last.
The VS veteran, 37, received a standing ovation as she walked in her final show in New York on Thursday.
After it wrapped, the Brazilian supermodel shared a message with her 11 million followers saying: "Dear Victoria, Thank you for showing me the world, sharing your secrets, and most importantly not just giving me wings but teaching me to fly."
Download the all-new Microsoft News app to receive up-to-the minute news from the world's best sources – available now on iOS and Android
She added: "And all the to the best fans in the world! Love, Adriana."
Speaking about this year's show, she told People magazine: "I think this year is going to be the highlight of my career.
Gallery: 2018 Victoria's Secret Fashion Show (Photos Services)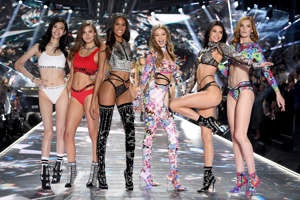 "This has been my 18th fashion show and I am still as excited as I was from the first day. I always love to be on runways and being part of the Victoria's Secret show. It my favourite to do."
She added that she'll now be turning her focus to other projects.
© Credits: (Credit too long, see caption) "I'm looking forward to support women and being connected to different projects which support women around the world," Adriana said. 
"That like my future from now on but I am still happy that I am part of Victoria's Secret this year. You guys are going to love this year's show. To me it is definitely going be very special."
Video: Victoria's Secret "Angels" get ready for annual fashion show (AFP)