Amber Heard and Gal Gadot lead the glamour as all-star Justice League cast attend LA premiere

Evening Standard
5 days ago
Gal Gadot and Amber Heard led the all-star cast of Justice League at the film's big premiere in Los Angeles.
The actresses, who play superheroes, Wonder Woman and Mera, were centre stage at the opening on Monday night, where they were joined by co-stars Ben Affleck, Henry Cavilll, Ezra Miller and Jason Momoa.
The pair joined forces on the red carpet and posed for fan photos together, before heading inside to get a first look at Zack Snyder's eagerly-awaited new film.
Aquaman actor Momoa made his first public appearance with new wife Lisa Bonet, after they tied the knot last week.
The film is bases on the DC comic book superhero team of the same name, with brings the likes of Superman, Batman and Wonder Woman together to create a the ultimate crime-fighting force.
Rising star Gadot is expected to reprise her role in the Wonder Woman sequel later this year, although she is reportedly keen for disgraced producer Brett Ratner to be removed from the project.

The Israeli actress is thought to have told Warner Bros that she won't sign up for a second film if the producer is involved, after numerous sexual assault allegations were made against him.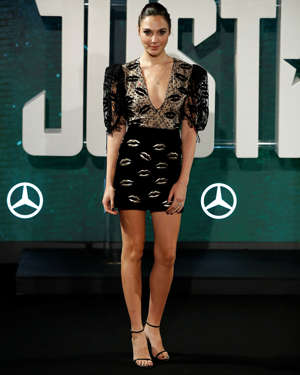 According to Page Six, Gadot is still in negotiations with the studio and her appearance in the film now hangs in the balance.
"Brett made a lot of money from the success of Wonder Woman, thanks to his company having helped finance the first movie," said a source.
"Now Gadot is saying she won't sign for the sequel unless Warner Bros buys Brett out [of his financing deal] and gets rid of him."
Justice League is released nationwide this Friday.
Related: 'Justice League' unite for world premiere (Provided by Associated Press)