Britain's top 10 eligible singles revealed, according to Tatler

The Independent
10/11/2017
© Provided by Independent Print Limited gettyimages-846457960-0.jpg Society bible Tatler has unveiled its annual list of Britain's most eligible singles.
The Little Black Book guide is renowned for featuring the nation's finest and fanciest social butterflies, all of whom have yet to "put a ring on it," so to speak.
This year, the carefully-selected top 10 is comprised of rock royalty, billionaire offspring and a healthy peppering of Ladies, Heirs and Viscounts, naturally.
Lady Kitty Spencer
Two-time Tatler cover girl, 26-year-old Spencer is no stranger to the glossy magazine's pages.
Princess Diana's niece separated from property mogul Niccolo Barattieri in July.
Hailed as "the funniest person at a party," the former model was also praised by the title for having a "really hot bod."
Marquess of Blandford
George Spencer-Churchill is set to inherit the historic Blenheim Palace and will eventually become the Duke of Marlborough.
Not only is he a pro at polo, the 22-year-old Harrow graduate also boasts a pilot's licence and an "adorable smile," apparently.
Lady Eliza Manners
The youngest of the Duke of Rutland's renowned roster of merrymaking offspring, Manners is known for her penchant for partying along with her two sisters, Alice and Violet.
When she's not studying business at the University of Newcastle, you'll find her dancing the night away in her in-home nightclub at Belvoir Castle.
Maharaja Padamanabh Singh
Godson to the Prince of Wales, 19-year-old Singh is an accomplished polo player.
He's an ambitious Maharaja too, according to the magazine, who credit him for wanting to "clean up corruption, empower youth and work towards gender equality."
Lady Lola Crichton-Stuart
Daughter to Formula One driver, the Marquess of Bute, Critchton-Stuart is set to move to New York to study fashion design at Parsons.
At just 17-years-old, she is the youngest singleton featured in Tatler's guide.
Viscount Althorp
Louis Spencer is Lady Kitty's younger brother and is "absurdly hot," according to the magazine.
He is set to inherit Althorp estate, the Grade I listed stately home in Northampton.
Ella Richards
Richards is no ordinary 20-year-old, granddaughter to Rolling Stones' Keith Richards, she is already making a name for herself in the fashion industry.
So far, she has fronted campaigns for Burberry and Tom Ford and is signed to Storm Models.
Alex Flick
Flick is not just the son of Mercedes-Benz heir Mick Flick, he also happens to be an established artist and documentary filmmaker. He even has his own gallery in Bethnal Green, named Unit9.
Marquess of Worcester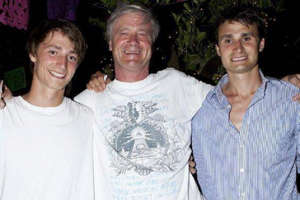 © Provided by the Independent 27-year-old Robert Somerset or "Bobby" - as Tatler call him - is son to the Duke of Beaufort. He currently works for London-based hedge fund firm Crispin Odey.
Lady Alice St Clair Erskine
© Provided by The Independent Erskine is the 29-year-old daughter the Earl of Rosslyn. After studying acting at the New York Conservatory for Dramatic Arts, Erskine embarked upon a career as an actor and portrayed the Duchess of Cambridge in the US TV film William & Catherine: A Royal Romance .
Related: Kate Middleton apparently included this secret nod to Princess Diana on her wedding day (Provided by Hello Giggles)
For more of the most popular News, Sport, Lifestyle & Entertainment on MSN, Follow us on Facebook, and on Twitter