Don't make men wear suits to work during heatwave, employers told

The Telegraph
19/06/2017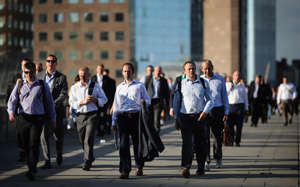 © Getty City Workers walk along London Bridge in the early morning sunshine Workers sweltering in the heat should be allowed to ditch their suits and wear cooler attire instead, employers are being told.
To help staff cope with the heatwave currently sweeping the UK, the TUC has urged firms to temporarily relax their dress codes and leave work all together if it gets too hot. 
The advice will come as a particular relief for male office workers who are often expected to wear shirts, suits and ties to work.
Heatwaves are generally easier for female workers to dress for, as they are able to switch to smart short-sleeved dresses.
It comes as Sunday saw a high of 32C, the hottest day of the year so far and emergency services are on standby after the Government issued a level three amber heat alert as temperatures are set to increase further this week.
Temperatures are due to peak at 34C in certain parts of the UK - hotter than the Bahamas - before cooling down at least a few degrees by next weekend.
As well as allowing comfortable clothes, the TUC has suggested that any outside work is done in the morning or afternoon to avoid the searing heat of the mid-day sun.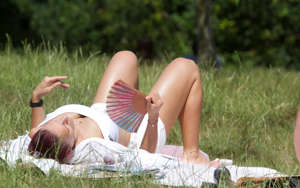 © AMER GHAZZAL / BARCROFT IMAGES A woman cools off with a fan as London Swelters reaching record high temperatures with heatwave weather warning on June 18, 2017 The union organisation again called for a change in the law to let workers go home if the temperature reaches 30C or 27C for people carrying out physical work. At present there is no upper temperature limit at which workers have a right to leave work.

It also wants to introduce a maximum indoor temperature, with employers obliged to adopt cooling measures when a workplace temperature reaches 24C.
Companies should supply workers with cool drinks and allow them to take regular breaks, it added.
General secretary Frances O'Grady said: "While many of us will welcome the sunshine and warm temperatures this week, working in sweltering conditions can be unbearable and dangerous.
"Employers can give their staff a break by relaxing dress code rules temporarily and ensuring staff doing outside work are protected.
"Obviously shorts and flip flops won't be the right attire for all workers, but no-one should be made to suffer unnecessarily in the heat for the sake of appearances."
Meanwhile in Wales parents of school children are calling for uniform rules to be changed as kids are getting burned by metal tie clips in scorching weather.
Both girls and boys at Whitchurch High School in Cardiff have to wear the metal tie clips as part of their uniforms.
But the pupils are "suffering minor burns from metal tie clips" in the heat, leading it parents setting up a petition for the "impractical" uniform to be relaxed.
The petition reads: "We aim to petition the school to allow a summer alternative uniform such as polo shirts for all, skirts and school shorts for boys and girls.
"This is so that girls are not made to wear tights all year round and boys have a smart but more weather appropriate alternative to full-length trousers."