Elvis Presley's most memorable fashion moments

Photos
22/09/2016
When Elvis burst onto the scene in the '50s, he revolutionized not just the sound of America, but also the style. Zoey Goto, author of the new book "Elvis Style: From Zoot Suits to Jumpsuits," takes a look at The King's 10 most memorable fashion moments.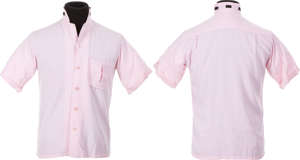 Elvis' hot pink shirt. 'In the 1950's, my father introduced pink and black into Elvis' wardrobe, at a time when it was considered feminine' recalls Hal Lansky of the Lansky Bros. store, where Elvis was a regular customer. 'Back then "real men" wouldn't wear pastel pink but it soon became a '50s thing, with pink clothing, Cadillacs and flamingo motifs becoming popular'.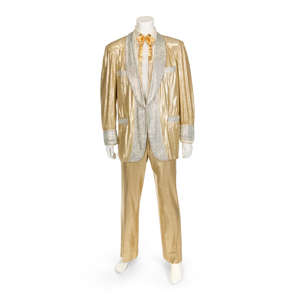 Elvis' taste for bling stage-wear was exhibited in 1957 when he sported a sensational gold suit worn for the album cover of "50,000,000 Elvis Fans Can't be Wrong." What the outfit lacked in subtlety, it made up for in impact - as Elvis showed the world that the poor boy from Tupelo was ready to take his throne as the golden boy of entertainment.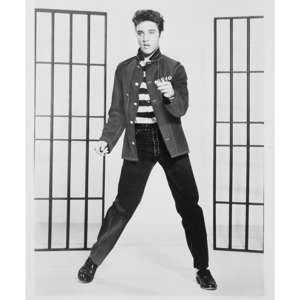 Elvis gets kitted out in denim for his role in "Jailhouse Rock," 1957. In his off-screen wardrobe, Elvis tended to avoid denim as it reminded him of work-wear and the poverty of his childhood. However, by endorsing a range of jeans for Levi's and through his movie wardrobe, Elvis had become, in the collective mind at least, the archetypal 1950s denim-wearer.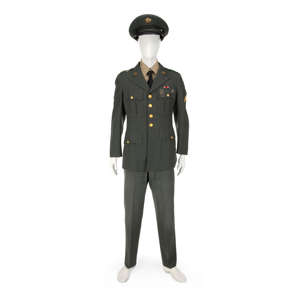 The outfit that heralded a new chapter in Elvis' life. On March 24, 1958, a date that was christened 'Black Monday' by the fans and media, Elvis was inducted into the army. It was a major turning point in Elvis' career, marking the transition from rockabilly rebel into family entertainer – or, as John Lennon said in a slightly more pessimistic tone, "Elvis died the day he went into the army."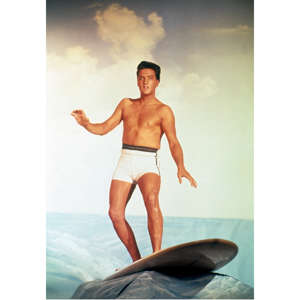 Elvis hits the surf for his role in "Blue Hawaii" (1961) and spends much of his screen time wearing these tight, white shorts. The film's commercial success became both a blessing and a curse for Presley, providing a blueprint for future films that became increasingly creatively stifling. "The problem is, they keep trying to make "GI Blues" and "Blue Hawaii" over and over again, and all they do is move the scenery around a little," Elvis accurately observed.
The day a million hearts broke - on the May 1, 1967, Elvis wed his long-term girlfriend Priscilla. The eight-minute Las Vegas ceremony was followed by a $10,000 wedding breakfast that included Southern fried chicken and a press conference. The newly-weds are pictured here about to be whisked off in Frank Sinatra's private jet for their Palm Springs honeymoon.
In a nod to his rebellious '50s image, Elvis also wore this seductive leather two-piece during the "'68 Comeback Special," created by the costume designer Bill Belew. The black leather outfit has since become a tried and tested formula for entertainers looking to inject some rock 'n' roll authority – from Bono and Suzi Quatro to Britney and Lady Gaga.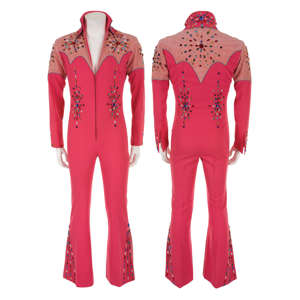 This hot-pink jumpsuit was made for Elvis by the legendary rodeo tailor Nudie Cohn. Victoria Broackes from the V&A Museum observes that Elvis' style-defining jumpsuits were originally created for their functionality. "Elvis was a black belt in karate, and wanted to incorporate karate moves into his performance: the jumpsuit made this possible."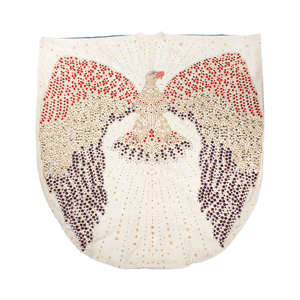 For the 1973 "Aloha from Hawaii" satellite broadcast, watched by over 1 billion viewers, Elvis wore a patriotic white jumpsuit with a heavily jeweled American eagle on the front, back and cape and a belt embellished with stars and eagles – a show-stopping outfit that cost $65,000 to create.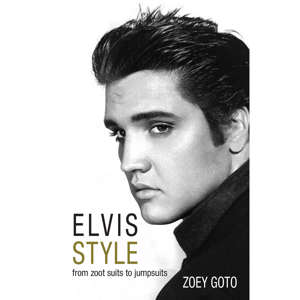 To learn more about "Elvis Style: From Zoot Suits to Jumpsuits," click here.