How To Wear The Nearly Naked Wedding Dress Trend On Your Special Day

HuffPost UK
13/02/2018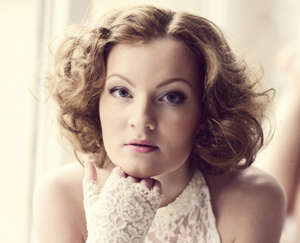 © Provided by Getty The nearly naked wedding dress trend has been making the rounds on bridal catwalks for going on four years now and it's beginning to filter down to the high street.
This style of flesh-revealing fashion might be considered risqué by some, but wearers can actually be less exposed than with some previous wedding trends - such as the plunging neckline and the off-shoulder look - as this barely there trend is all about creating the illusion of nakedness.
The bride's body is covered in fabric - but that fabric is sheer. How far you take it depends on your confidence and how much of a reaction you want from your guests. 
Some brands have been known to push the trend to the limit. Think, for example, of this bold creation by Spanish brand Pronovias. 
But for those interested in taking on the trend in a less OTT manner, it's wise to keep in mind is that a good undergarment is key.
A great way to rock the trend comfortably - and therefore confidently - could be to wear a body suit like this one from Wacoal. Another good brand to go for is Nubian Skin, especially for women of colour.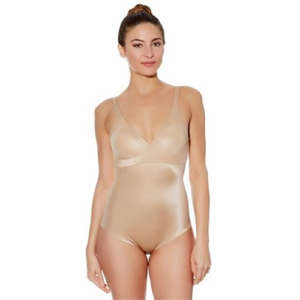 © Wacoal You also don't have to go full nearly naked, make a nod to the hottest bridal look of the season with sheer panelling on sleeves, shoulders or your midriff. A good example is this crop top style from Asos Curve.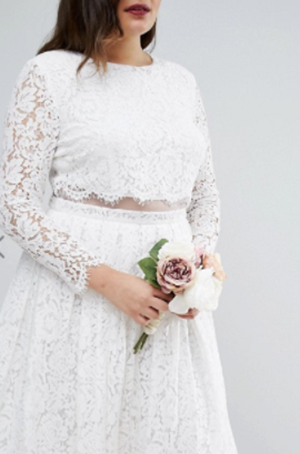 © Asos Each year we see more of this style from the very top of the fashion industry, with haute couture brands like Zuhair Murad, Elie Saab and Galia Lahav offering decadently wispy pieces made of the finest lace, crystal - and craftsmanship.
The look has trickled down through offerings from Self Portrait and Grace Loves Lace and can now even be found on the high street at affordable price points.
Why opt for a high street steal on your wedding day, you might ask? Well, because that's a lot of money to be dropping for so little fabric.
We've compiled a round up of affordable, fun and modern 'nearly naked' bridal pieces. We've gone for a variety: from dresses that leave little to the imagination, to those which just show a hint of flesh.
Some of these pieces have a lace or tulle overlay covering a white lining. If you're feeling brave and want to go all out, you could use an alteration service to swap out the lining for something in a flesh tone. 
Body Frock
The Delight Dress, £150.
Simply Be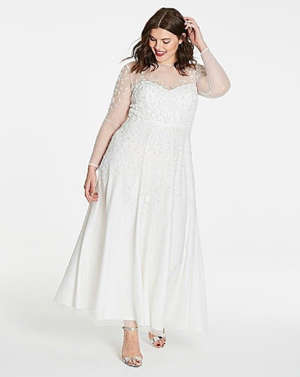 Joanna Hope Beaded Bridal Dress, £225.
Zara
Long Lace Dress, £25.99.
Self Portrait

Embroidered Cutout Midi Dress White, £300.
French Connection
Arta Lace Culottes (£90) and Top, £80.
Self Portrait

Azaelea Dress White, £260.
French Connection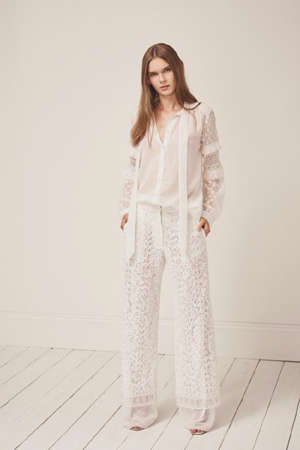 Arta Lace Trouser, £120, and Top, £65.
Asos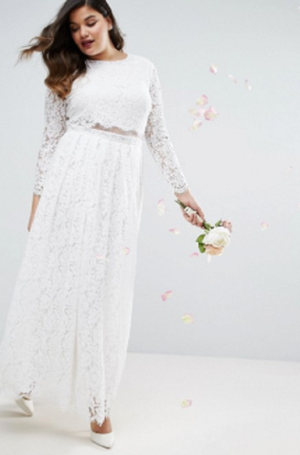 Asos Edition Curve Bridal Lace Long Sleeve Crop Top Maxi Dress, £120.