New York Fashion Week finally gets a dose of politics at Prabal Gurung, but in the wake of #MeToo and #TimesUp, why are other designers staying mute?

The Independent
13/02/2018
© Provided by Independent Digital News & Media Limited A lot has happened since fashion designers showcased their spring/summer collections in September.

The allegations against Harvey Weinstein broke in October, subsequently generating a flurry of social media campaigns encouraging victims of sexual misconduct to speak out under #MeToo.
Hollywood stars soon responded with #TimesUp, which saw attendees wearing all-black at this year's Golden Globes.
Just over a week later, fashion felt the full force of these movements head-on as two of the industry's most celebrated photographers, Mario Testino and Bruce Weber, came under fire with a wave of allegations against them - and let's not forget about photographer Terry Richardson, whose allegedly unsavoury behaviour was known for years.
Last but not least, we have a US President who occupies the White House with at least 16 accusations of sexual harassment against him.

If time really is up and we're ready to say 'Me Too', surely it falls on New York Fashion Week, as an introduction to the industry's bi-annual equivalent to the Golden Globes, to take part in these crucial socio-political movements, or to at least acknowledge their importance.
Not only do the forthcoming weeks in New York, London, Milan and Paris provide the perfect platform for conversation-starting social commentary thanks to extensive media coverage, but they are intended to celebrate women via dressing the female form, something with which these movements are intrinsically linked.
After five days of back-to-back shows, it wasn't until Sunday evening that politics finally permeated the New York runways via Prabal Gurung, who The Washington Post recently heralded as 'the most woke man in fashion'.
Fashion "gives one a platform, a way for me to speak to issues that are important to me," the Nepal-born designer told The Post in January.
This season, Gurung's colourful collection paid homage to his Himalayan hometown, but it was his en masse finale, in which models walked together holding white roses, that made the overdue and appropriate nod to #TimesUp.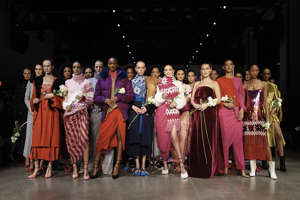 © (AP Photo/Andres Kudacki) The Prabal Gurung collection is modeled during Fashion Week in New York, Sunday, Feb. 11, 2018. He marked the movement in the same way as attendees at this year's Grammy awards, where celebrities donned white roses on the red carpet in New York just two weeks ago.

Gurung's message was amplified even further given that Tamara Burke, founder of the #MeToo movement, sat in his front row, a place usually reserved for A-list celebrities.
With a reputation for channelling social activism in his collections since Trump came into power, previous collections have featured slogan tees been inspired by Gloria Steinham, it was no surprise that Gurung would confront these movements in his show.
Elsewhere, more subtle allusions took place at Jonathan Simkhai, whose Suffragette-inspired collection was amass with Victorian pleats and unusually high necklines.
Kesha's poignant track 'Praying' greeted guests on arrival, setting the mood for Simkhai's celebration of female autonomy and speaking out, given that the song famously addresses the pop singer's ongoing legal battle with a music producer she alleges sexually assaulted her.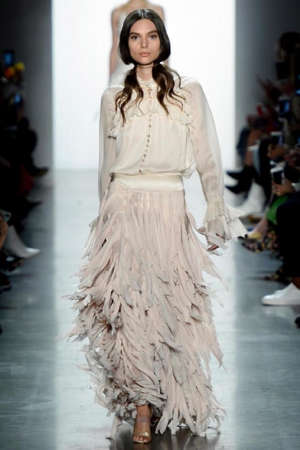 © Provided by Independent Digital News & Media Limited Jonathan Simkhai's fall/winter 2018 collection was inspired by a late-19th century aesthetic in homage to the suffrage centenary (Rex Features) Call it tokenism, brush it off as virtue signalling, accuse it of being a publicity stunt, but if we've learnt one thing over these past few months, surely it's that speaking up beats saying nothing at all.

Aside from the two aforementioned labels, the New York runways have remained almost entirely apathetic; and the silence is deafening.
Tom Ford might have dazzled with lashings of sequins and brazen animal prints; Tory Burch might have charmed with joyous prints and ethereal silhouettes and Christian Cowan might have delivered 'an uplifting message during trying times', but is that good enough in the current climate?
If Nina Simone was right, and an artist's duty really is to reflect the times, than New York Fashion Week has failed us thus far.
With a few New York shows remaining and a vast number still to come, spanning across fashion's four capitals, one can only hope that fashion's #MeToo moment is imminent.
Related: New York Fashion Week Fall/Winter 2018: Celebrities in front row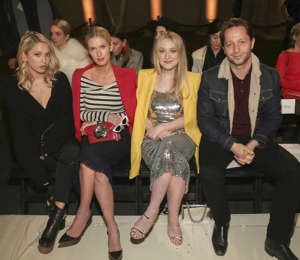 For more of the most popular News, Sport, Lifestyle & Entertainment on MSN, Follow us on Facebook, and on Twitter