People have spotted something odd about Melania Trump's recent outfits - and it's really irritating them

Mirror
06/10/2017
© Provided by Trinity Mirror Shared Services Limited Credits: Getty Images North America Melania Trump has come under fire in the past for her outfit choices: namely wearing stiletto heels to meet disaster victims and that powder blue Harry Potter costume.

But her latest choice of accessory is raising even more eyebrows - and causing a few chuckles.
If you've been following the movements of President Donald Trump and his First Lady recently, you might have seen photographs of the couple returning from Las Vegas after the devastating events of Sunday evening.
I wonder if Melania is insecure about her eyes? She wears sunglasses a lot. Even at night! She has beautiful eyes, violet I think. pic.twitter.com/pMMzF9OTUB

— TRUMP 24/7 (@MichaelDelauzon) August 30, 2017
Ok, but what is the reason for Melania (whatever her name is) wearing sunglasses at all times, including night time for at least 1 week? https://t.co/FxVAWQdKSt

— Lily (@LilyMazahery) August 30, 2017
Unfortunately, the focus lay largely on what Melania was wearing as she stepped off Air Force One in Washington.
More specifically, people were wondering why on earth she was wearing sunglasses when it was dark outside - but it's not the only time she's done it.
© Provided by Trinity Mirror Shared Services Limited Credits: AFP People had their theories. Many said that she was doing it to hide that she was rolling her eyes whenever her husband spoke.
It's a plausible explanation, we suppose.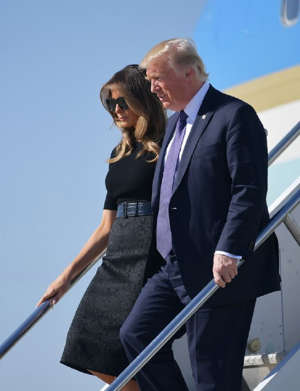 Others suggested she's self-conscious about her eyes, which seems much less likely.

Her reluctance to take off her sunglasses at any time of day has recently angered people across the world.
Melania chose to keep her shades on while meeting victims of the recent hurricanes which have devastated the USA.
Fair enough, it was probably really sunny and she didn't want to squint or frown at these poor people. They've already suffered enough.
I'm making a public plea to Melania Trump: stop with the sunglasses (and the heels at disaster areas).

— Ellie Kreidie (@EllieKreidie) October 3, 2017
Why is Melania always wearing sunglasses ?

— AnnMac (@AnnMacNS) October 3, 2017
Melania wears her mirrored sunglasses & hat pulled low so she can really project warmth & caring to the people of #PuertoRico🌴👎

— alison wonderland (@Alisonnj) October 3, 2017
However, some have said that it showed a lack of respect for the survivors of the storms - many of whom have been left with nothing - and it would have been easy to just take them off.
At least she managed to take them off when she met Prince Harry.
Melania Trump...was it a frosty reception?
Related: Melania Trump: Style file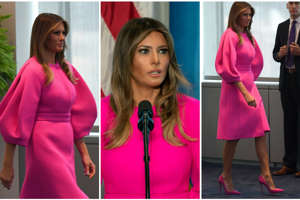 Melania Trump: Style file