Summer dress codes: a guide to navigating the season's events in style

Evening Standard
16/05/2018
© Provided by Evening Standard Limited When Regina Spektor sang "summer in the city means cleavage, cleavage, cleavage" it's possible that she wasn't familiar with the Royal Enclosure dress code outlined by Ascot.

She certainly didn't have a wedding in mind. If she did, it was a bohemian one held in a warehouse in Williamsburg, it certainly wasn't a royal one.
While the onset of warm weather brings with it dispensation from many things (see bras and skirts with linings), it also bestows us with an array of impenetrable dress codes.
Notably because, despite all the fun and frivolity in the air (most of it fuelled by cheap rosé), the great British summertime is a season that's weighed down with protocol and tradition.
Here's a guide to seeing it through to September with your social integrity intact.
© Provided by Evening Standard Limited Oversized dress, £595. RejinaPyo. rejinapyo.com

The 'I dos'
Harry and Meghan may have left you festering on their "maybe" list, but you've got 15 other weddings to attend this silly season. What on earth to wear and do you have to put together a different ensemble for each one? The simple answer is no, provided you plan your purchases with military rigour and seek out dynamic buys with transferable skills.
For instance, a trouser suit in a festive shade such as a pastel pink or ivory can be worn to two weddings (assuming said weddings involve different groups of friends) and then be worn as separates. While we're on the topic of weddings, fascinators remain off the agenda. If headgear is essential, go with the hat, or go home.
© Provided by Evening Standard Limited Jacket, £1835 and Dress, £2520, Jenny Packham. Jennypackham.com

Horsing around
A day at the races demands precision planning if you are to adhere to the carefully worded dress code, with skirt length and strap width among the key points of interest for those with plans to enter the royal enclosure. But there's an easy way through this quagmire: a jumpsuit (granted entry to the event in 2017) worn with a slouchy blazer. A long- sleeved shift dress with a mid-thigh skirt is also a safe bet. (Royal Ascot starts on Tuesday 19th to Saturday 23rd June, from £37, ascot.co.uk)
Just courting

How you dress for a day in SW19 has a lot to do with where you're headed. If it's centre court and a corporate day out with the boss, a cotton sundress is your king. Opt for bright shades and vibrant prints, leaving the whites to Andy Murray.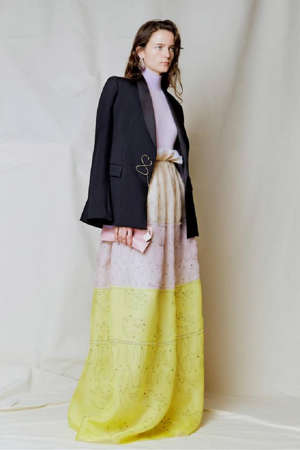 © Provided by Evening Standard Limited Skirt, POA, jacket, £1495, Roksanda. Roksanda.com

Arty party
If you want to feel really, really bad about your life choices, spend an evening surrounded by the art elite. It's there among the straight-off-the-runway Prada dresses and Raf Simons "dad" trainers that you'll find British style's top tier. Of course, if you're social calendar does take you in the direction of the Serpentine summer party, embrace it with both arms — not least because the people watching is next level. To survive unscathed, opt for vibrant colours and as niche a label as your wallet allows. The art party is also the perfect opportunity to flaunt your best vintage finds.
Related: Best dressed celebrities this week: 14 May (provided by Harper's Bazaar UK)
For more of the most popular News, Sport, Lifestyle & Entertainment on MSN, Follow us on Facebook, and on Twitter