Ten summer hair and beauty hacks

Cover Media
16/06/2018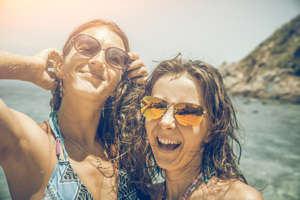 © Provided by Getty Baking soda, tomato juice and apple cider vinegar are just some of the surprising products you'll need to keep your hair and make-up in check this summer, according to experts.
Chlorine and beaches can take the moisture out of your hair, leaving it feeling dry and coarse, and we can all do with a shortcut or two to looking great, especially when the warm weather comes along. You'd be surprised at just what you can use to tackle a streaky tan, dull hair colour or frazzled ends.
"Whether it's dealing with botched fake tan, fading hair colour, green hair or dry and frizzy ends, summer can seem like a constant beauty battle," beauty expert Joanne Dodds from Hairtrade.com tells us. "Luckily, these 10 simple hacks will help you find both easy and affordable remedies to save your skin and hair."
Read on for our hacks to protect your hair from fading in the sun and to make sure your make-up lasts in the heat.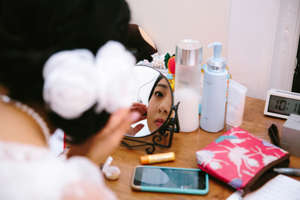 © Provided by Getty Make your make-up suitcase-friendly
Place a cotton pad or two in-between your blush and bronzer compacts to prevent them from shattering in your suitcase and ruining all of your belongings.
Repair dry hair with an avocado mask
A simple homemade hair mask can quickly resurrect your hair in summer. Simply crush one whole avocado with quarter of a cup of olive oil and one tablespoon of lemon juice. Mix it together and apply onto the hair, then leave it in for 20 minutes before rinsing.
Make aloe vera ice cubes to treat sunburn
If you accidentally end up getting a bit sunburnt, simply freeze an Aloe Vera based gel into ice cube trays. This will feel amazing on your burnt skin whilst helping your skin to heal too.
Ditch foundation for a BB cream
Choose a lightweight BB cream instead of a thick, heavy foundation which will allow your skin to breathe in the heat.
© Provided by Cover Media Use vinegar to prevent hair colour from fading
Half a cup of apple cider vinegar is a great natural remedy to help brighten up your locks. Simply add the vinegar to a spritz bottle, spray all over your hair and leave it in for about 10 minutes before rinsing out.
Store nail polishes in the fridge
Keeping them in a cool place can extend your nail varnishes shelf life and make it smooth and easy to apply.
Use tomato juice to keep blonde hair bright
For a post-swim remedy, coat your hair and scalp in tomato juice for 5-10 minutes before washing with shampoo and conditioner. This will help fade the greenish hue if you have one.
Related: 17 Ways to Have the Best Summer Skin Ever (Provided by Popsugar)
Make coconut oil your new BFF
Pack into a small travel bottle with coconut oil and take away with you on holiday to keep your skin hydrated, use as a conditioner, serum and cuticle oil.
Fix uneven fake tan
Fix any fake tan botches with baking soda. Simply apply some baking soda on a loofah with warm water and exfoliate to get rid of any patchiness.
Use baby powder to remove sand
Baby powder will absorb all the moisture that is causing the sand to stick to your skin, like sweat, sun cream and sea water, so the sand will just drop off your skin.
A special message from MSN:

Nine million people across all age groups and walks of life in Britain are affected by loneliness. We've partnered with giving platform Benevity to raise funds for three charities - Mind, the Campaign to End Loneliness, and Wavelength – to tackle this debilitating and complex issue. You can help make a difference - please donate now.