The back of Princess Eugenie's reception dress is even more beautiful than you imagined

Cosmopolitan (UK)
20/11/2018
© Getty Images On Thursday, designer Zac Posen shared a photo of Princess Eugenie's blush reception dress from behind. It looked even more beautiful from the back. Last month, Princess Eugenie wore three different gowns on her wedding day.
She walked down the aisle in a gorgeous Peter Pilotto wedding dress designed to show off her scoliosis scar (which almost brought tears to my eyes). Then, later that night, she changed into a stunning blush dress by Zac Posen, which featured long sleeves and a caped shoulder.
The designer dress was fitted in the waist, and flowed away from her body in a beautiful display of silky fabric.
Download the all-new Microsoft News app to receive up-to-the minute news from the world's best sources – available now on iOS and Android
Her second gown was inspired by the beauty of Windsor and the surrounding countryside.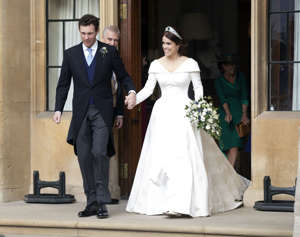 © Steve Parsons/PA Wire/PA Images Princess Eugenie and Jack Brooksbank, watched by the Duke of York, leavi Windsor Castle after their wedding for an evening reception at Royal Lodge. Specifically, Posen chose the pink colour to reflect the blush of an English rose. As for the White Rose of York (a symbol for the House of York), it was subtlety embroidered on both the shoulder and back, which held together the cape. 

If her second gown broke royal tradition, her third well and truly smashed it. The Princess opted for an embroidered "Mrs Brooksbank" biker jacket and custom white mini dress by designer Sam Dougal, for her festival-themed evening reception.
Gallery: Best photos from Princess Eugenie and Jack Brooksbank's royal wedding (Photos Services)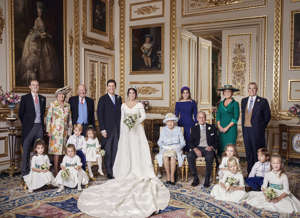 Of course, the only image of Eugenie's second dress from that night was taken by royal photographer Alex Bramall-guests reportedly weren't allowed to have their phones inside the reception. Which was true until yesterday, when Posen shared an Instagram of Princess Eugenie's second wedding dress from behind-the photo was taken at his atelier.
From behind, you could really see the stunning details.
A post shared by Zac Posen (@zacposen) on Nov 14, 2018 at 9:58am PST
The back was designed with buttons trailing down the spine and featured a low back so as to not cover Princess Eugenie's scar.
The silky fabric flowed out from behind like a super woman cape. From behind, the dress looked twice as romantic and dramatic than from the front. Posen captioned the 'gram, "The back by popular demand, before the final #whiteroseofyork embroidery was placed."
© Getty Images Zac Posen shares secret photo of Eugenie's dress Oh, here's the front of the dress again just in case you're still obsessed with it. I still am.
Video: 15 Times Princess Eugenie Broke Royal Protocol With Her Outfits (Good Housekeeping)