The queen changed shoes during a royal engagement and no one noticed

Hello!
12/07/2018
© Copyright ¡HOLA! Hello! Magazine The Queen looked radiant on Tuesday as she attended celebrations In London for the Royal Air Force's centenary year.
Her majesty dressed in an elegant violet and light blue coat with matching hat for the occasion, looking suitably summery as she enjoyed the day with the rest of the royal family.
But while all eyes were on the outfits of her grandsons' wives, Duchess Kate and Duchess Meghan, HELLO! noticed something unusual about the Monarch's footwear.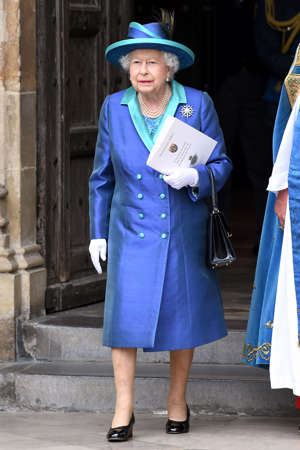 © Doug Peters/Doug Peters/EMPICS Entertainment Queen Elizabeth II during the RAF Centenary at Westminster Abbey, London. The Queen, rather out of character, changed her shoes midway through the event. Could her heels have been a touch uncomfortable? Only on close inspection of the photographs did we notice her surprising shoe swap.
In one picture we see the Queen exiting Westminster Abbey in a pair of black leather shoes with a patent toe. However, later in the day as the Monarch walked with Air Chief Marshal Sir Stephen Hillier at the RAF 100 ceremony, we see her wearing some black court shoes with a golden buckle on top.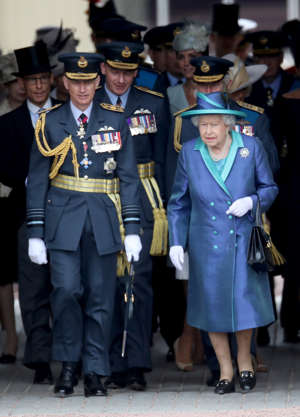 © Photo by Chris Jackson/Chris Jackson/Getty Images Queen Elizabeth II walks with Air Chief Marshal Sir Stephen Hillier at the RAF 100 ceremony, as members of the Royal Family attend events to mark the centenary of the RAF on July 10, 2018 in London, England. She then joined the royal family at Buckingham Palace for the exciting flypast.

So somewhere along the way and for some reason, the Queen changed her footwear. It was certainly a subtle swap behind the scenes as it went completely unnoticed.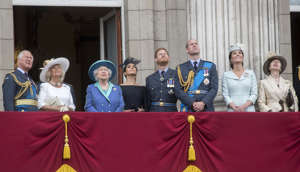 © Paul Grover/Daily Telegraph/PA Wire/PA Images (left to right) Prince of Wales, the Duchess of Cornwall, Queen Elizabeth II, Duchess of Sussex, Duke of Sussex, Duke of Cambridge, Duchess of Cambridge and the Princess Royal on the balcony at Buckingham, Palace where they watched a Royal Air Force flypast over central London to mark the centenary of the Royal Air Force.. It has been a difficult few weeks for her majesty, who felt 'under the weather' in late June and sadly missed Prince Louis' christening.
The rest has clearly done her good though, as she looked in great spirits on Tuesday, smiling for crowds. This Friday sees the Monarch meet the US President Donald Trump so all eyes will be on her footwear choices. We wonder which shoes she'll choose for this landmark event.
Related: Queen Elizabeth II's Most Glamorous Jewels And Tiaras (provided by Town and Country)