The Theme For Next Year's Met Gala Is...

Refinery29
09/10/2018
Drum roll, please... (but actually, because this is gonna be good)...
The theme of the next Met Gala is "Camp: Notes on Fashion."
After putting on the most-visited Costume Institute show in its history — you saw it, Heavenly Bodies: Fashion and the Catholic Imagination — the Metropolitan Museum of Art's curator in charge Andrew Bolton is going even bigger. A play on literary star Susan Sontag's essay "Notes On 'Camp,' " of the Partisan Review from 1964 in which she put a word on the meeting of high-brow art with mass culture (think: Andy Warhol, Banksy, but also reality television and meme culture), next year's Met Gala will highlight the art of opposition to conformity — and all of the fun that comes with it.
Download the Microsoft News app for your Android or iPhone device and get news & live updates on the go.
But that's not all: Fashion's biggest night will be co-chaired by Lady Gaga, the self-dubbed 'artpop' queen herself, Harry Styles, Serena Williams, and Gucci's all-but-elusive creative director and reviver of high-fashion camp Alessandro Michele. (With that information alone, you can definitely count on an Elton John appearance and maybe a Cher cameo, too.) Of the decision to go from something as serious as religion to something as supposedly light as camp, especially right now, Bolton feels the timing couldn't be more right. Though its opening night usually draws bipartisan criticism in terms of what unfolds on the red carpet, the exhibition itself doesn't disappoint when it comes to tackling real world topics that, yes, impact the world of fashion.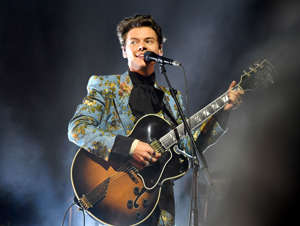 "We are going through an extreme camp moment, and it felt very relevant to the cultural conversation to look at what is often dismissed as empty frivolity but can be actually a very sophisticated and powerful political tool, especially for marginalised cultures," Bolton told the New York Times. "Whether it's pop camp, queer camp, high camp or political camp — Trump is a very camp figure — I think it's very timely." Though the President and his family have yet to attend a Met Gala since moving into the White House, we're sure that any Trump references — at least, on the red carpet — will be left at home. (Or will they?)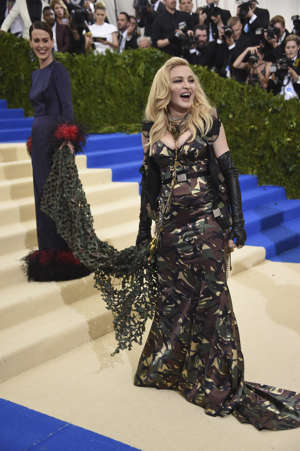 "One of my favourite definitions from Susan's essay is when she talks about the idea of camp as failed seriousness. When it is 'campy,' it is more self-conscious, but we are going to look at both," Bolton explained. The exhibition is said to feature 175 pieces of 37 designers, including menswear and art pieces (sculptures, paintings, drawings), and will take museum goers through the history of camp: from Versailles to the Stonewall Inn, the birthplace of the gay liberation movement which has since been made a national monument that you can still visit today, should you decide to fête your visit to The Met with a shot and a beer post-viewing.
On camp culture and why next year's May 6 show will be more relevant and extra than ever, Bolton puts it perfectly: "I have started to think it is everywhere, and that all fashion is on some level camp. It has gained such currency it has become invisible, and part of my goal is to make it visible again."
Gallery: Met Gala 2018: The battle of the trains [Harper's Bazaar UK]