This Curly Hair Meme Is Stumping Boyfriends Everywhere: Here's What It Means

People
14/09/2017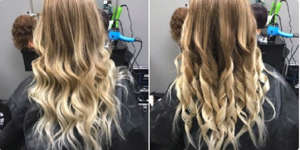 © Twitter If you've ever used a curling iron to create beach waves, you're well aware of the sculpted, ringlet-style look you're left with before you brush them out completely. And for cosmetology student Payton Hicks, that's a look she encounters frequently when she styles her clients' hair — so much so that she made a meme out of the look, which promptly went viral and managed to confuse men all over the country.
you vs. the girl he cheats with pic.twitter.com/7qBAUJpsDN

— pay10 (@payt_xoxo) September 6, 2017
Hicks posted the meme, complete with a before and after shots of the curly and brushed out looks, on Twitter, writing "you vs. the girl he cheats with." And while anyone who has used a curling iron would most likely understand the joke at first glance, it's going right over the heads of male Twitter users.

"My method for curling clients' hair is creating ugly ringlet-type curls that I then brush to make beachy beautiful waves," she told Buzzfeed. "I was laughing and joking with [my roommate] about how bad they look before I brush them."
Hundreds of twitter users responded in confusion, one writing, "I need help with this," while another posted a meme that said, "Think, think, think."
I need help with this

— J.a.B. (@_mrbellizzi) September 7, 2017
September 7, 2017
The explanation is fairly simple: the look on the left (you) is a set of gorgeous waves and the look on the right (the girl he cheats with) is a less desired style that stylists often use when creating a perfect beachy look. First, they'll curl all of the hair using a curling iron, and let the curls set in place. Once the ringlets are cool, they'll rake or brush them out to create an undone, textured look. 
Or just go with this guy's assumption.
Is it because the right one is fake curls or something it looks like some fine pasta

— Dylan. (@dylanftw87) September 7, 2017
Do you understand the joke? Sound off below.