A tour of the gastronomic delights of Paris

Evening Standard
09/10/2019
© Provided by Independent Digital News & Media Limited We all know that Paris is, at least in theory, a city where you have to search quite hard to find a bad meal. The sheer number of options — the teeming, tightly packed mass of bistros, wine bars and hushed shrines to haute cuisine — can induce a sort of overwhelmed paralysis.
A panic that can often end with a decidedly average crêpe.
Far better, then, to focus your efforts on one neighbourhood, and in recent years, the formerly seedy 2nd arrondissement has emerged as one of the French capital's most dynamic and varied dining destinations.
© Provided by Independent Digital News & Media Limited Frenchie But where to start? With my guide, Gregory Marchand — the chef and owner of the Frenchie restaurant empire that helped spark the area's revival 10 years ago — I spent two days eating and drinking my way around le deuxieme. Tough gig, I know.
After a sweltering summer stroll from Gare du Nord, the dining establishments in and around the 2nd revealed themselves as a study in typically Parisian extremes. Representing the new school, there is Pizzeria Popolare, the rowdy Big Mamma Group hype-magnet (one of seven and counting in the city) where young Parisians queue for criminally good €5 pizzas. And then at the other end of the spectrum there is Au Pied de Cochon: the 24-hour nose-to-tail institution that has offered a continuous service since first opening in 1947.
© Provided by Independent Digital News & Media Limited Pizzeria Popolare We opted for lunch at Le Rubis; a tiny, beloved, neighbourhood haunt that, with its interesting natural wines, peppery charcuterie plates and gently tweaked brasserie staples, is pitched somewhere between those two poles. Open since 2014, Le Rubis (not to be confused with the Place Vendome institution nearby, also called Le Rubis) is a relatively recent addition to an area once notorious for its underclass and described by Victor Hugo as 'a hideous wart on the face of Paris'. It's doubly impressive then that Marchand (who was given the nickname 'Frenchie' when he worked at Jamie Oliver's Fifteen in Hoxton) decided, in 2009, to establish his first restaurant on a grotty, 72-metre street called Rue du Nil. 
'It was basically where people would take their dogs to piss,' laughs Marchand. Flash forward 10 years and it is a buzzy, gastronomic fiefdom, lined with Insta-ready, bijoux shopfronts and benevolently ruled by Marchand. Wardrobe-sized Frenchie, which earned its first Michelin star this year, has been followed by the more casual Frenchie Wine Bar, the high-grade takeaway Frenchie To Go, wine seller Frenchie Caviste and produce stores proffering coffee, vegetables, meat and more. Even if your budget only stretches to a generously crammed Reuben from Frenchie To Go, it is a must.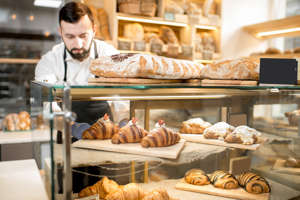 © Getty After that? You could stagger to cocktail bar Mabel for late-night Negronis chased by oozy cheese toasties. But I would save some hunger for the morning and a stroll to a new-wave boulangerie in the 11th called, brilliantly, The French Bastards. Run by Julien Abourmad, an old friend of Marchand, it's a neon-lit, indie-soundtracked haven of buttery, lacquered croissants, outrageously chocolatey babka and spurting raspberry cruffins. Those panicked, disappointing trips to the nearest crêpe vendor have never felt so far away.

Jimi was a guest of Frenchie and The Hoxton, Paris. Rooms from £133 per night (thehoxton.com). To book at Frenchie's sibling restaurant in London, visit frenchiecoventgarden.com
Gallery: 10 Things You Need to Know Before You Go to Paris (Fodors)
MSN UK is committed to Empowering the Planet and taking urgent action to protect our environment. We're supporting Friends of the Earth to help solve the climate crisis - please give generously here or find out more about our campaign here.