A village too beautiful even for Instagram

Easyvoyage
5 days ago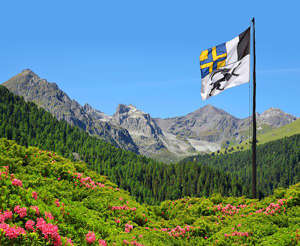 © Provided by Webedia SAS If you have not heard of Bergün/Bravuogn do not despair, few people have - at least that used to be the case. In late May this Alpine paradise in the Albula region, which is part of the Graubünden canton and about an hour away from St. Moritz, made both national and international headlines. Bergün/Bravuogn owes its new found popularity to a fairly peculiar new law - a ban on tourist photographs.
On May 30th the commune's local council introduced a law which prohibits tourists from taking pictures while visiting the town, those caught braking the law would face a symbolic 5CHF fine. However before you start questioning the state of the freedom of expression in the 21st century you should know that the entire thing was part of a public relations campaign.
The 'reasons' behind the 'ban'? Well combating FOMO (fear of missing out) of course. "It is scientifically proven that beautiful holiday photos on social media make the viewer unhappy because they cannot be there themselves," said a statement issued by the commune's tourist office.
"Bergün/Bravuogn is beautiful," said the Mayor, Peter Nicolay. "We don't want to make people outside the community unhappy by sharing social media photos of our picturesque landscape, and we cordially invite you to visit Bergün to experience it for yourself." Mr. Nicolay went on to add: "I am very pleased that the inhabitants of Bergün have the happiness of all people at heart. That makes me very proud."
Of course the real reason for the 'ban' is much more grounded. "In the background of course the idea is that everyone is talking about Bergün," Mr. Nicolay told The Local. "So it's a combination of both – we made the law and also there's some marketing [aim] behind it." In other words local tourist office hopes that by introducing the ban it will peak interest in the village which will lead to an increase in tourists.
In the meantime the Bergün's tourist office has removed photos of the village from both its official Facebook and Twitter accounts, and has declared its intention of removing photos from the Bergün website as well.
So far the move has been met with mixed feelings on social media. Some users have seen the funny side in the new 'law' as well as commenting on the innovative marketing strategy. However others have been less complimentary, saying it will deter tourists rather than attract them. In the end only time will tell if the strategy can be deemed a success, however for now if you go to Bergün you will have to appreciate the scenery the old fashion way - with your eyes rather than your phone.
Related: 28 scenic villages and small towns you need to visit