Blackpool Pleasure Beach's Valhalla has been named the best water ride in the world

Evening Standard
18/09/2017
© Provided by Evening Standard Limited An attraction at Blackpool Pleasure Beach has been named the world's best water ride at a prestigious trade awards - for the third year running
According to The Golden Ticket Award, the Valhalla ride which was first opened in 2000, is the best water-based ride on the planet.
The £15 million attraction has scooped the award for three years in a row, beating off competition from popular theme parks in both Orlando and Dubai. 
Valhalla is one of the most expensive water rides ever to be built, and is the longest indoor dark ride in the world. 
The ride uses spectacular special effects to thrill theme park-goers, incorporating fire, water, snow, thunder and lightning into the experience.
Riders board a Viking-style longship and are flung through a series of waterfalls, rock tunnels and traditional log flumes.
The experience takes thrill-seekers through extremes of temperature ranging from -20°C to 40 °C. There are various water effects during the ride course, including a water vortex and track elements include a turntable - where the boat is turned around to face backwards.
Valhalla was the only non-American ride to be recognised in The Golden Ticket Awards, which celebrates the best in the amusement industry.
Thinking of paying Valhalla a visit? Londoners who are keen to take on the ride can take the train from Euston to Blackpool North in two hours and 45 minutes, with one change at Preston.
Blackpool Pleasure Beach prices booked 10 days in advance are £20 for adults and £16 for juniors.
Related: World's most popular theme parks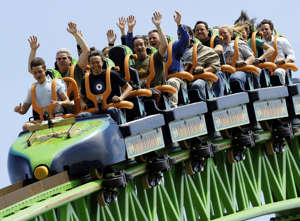 World's most popular theme parks