Everything you need to know about Turkey's weird and wonderful hot springs

Easyvoyage
20/11/2018
© © Kaspars Grinvalds/123RF Pamukkale,Turkey It's unlikely that anyone who has seen a picture of Pamukkale or has been lucky enough to pay a visit would dare contest its beauty, but a geological enigma like this is bound to leave anyone full of curiosity.
What on Earth is it? How did it get here? Let's shed a little light on the matter.
Download the all-new Microsoft News app to receive up-to-the minute news from the world's best sources – available now on iOS and Android
What is it?

Essentially, Pamukkale is a hot spring, but it's definitely not your average hot spring! Its warm pools sit on a breathtakingly white 200-meter-tall cliff that shimmers under the Turkish sunlight.
It's no surprise that the Cotton Palace and the surrounding ruins of the Roman spa city of Hierapolis were declared a UNESCO World Heritage Site back in 1988.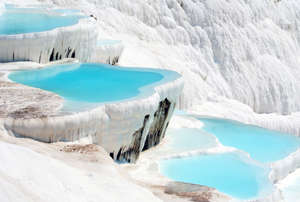 Where is it?
Nestled in Turkey's Inner Aegean region, in the industrial city of Denzil, it may be that its location is the reason why many haven't heard much about this natural gem! But rest assured there's absolutely nothing industrial about the breathtakingly beautiful Pamukkale.
Gallery: Out of This World: The 25 Most Surreal Landscapes on the Planet (Fodors)
Why are the cliffs so white?
Maybe you're wondering exactly why Pamukkale's cliffs are so spectacularly white, and this is where your GCSE science comes in handy.
Deep down beneath the springs lies a vast body of water that is heated by volcanic lava. This body of water dissolves pure white calcium and carries it up to the Earth's surface.The result: the water bursts out and runs all the way down the steep mountainside.
When the running water cools in the open air, its calcium precipitates to the soil. And it is this precipitation that causes the formation of Pamukkale's frozen white terraces, called travertines. Cool, right?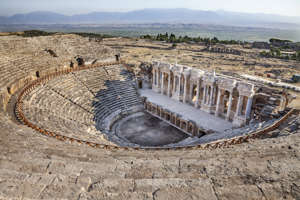 When did this all start?
Pamukkale has been home to thermal spas for centuries, as its waters have been bursting forth from this site for over two millennia! It is even thought that the Romans built the spa city of Hierapolis here so that citizens could enjoy the health benefits of these hot springs.
And just like the Romans, you too can bathe in these warm pools of mineral rich water. You can choose from 17 different hot springs ranging from 35 to 100 degrees.
What's the legend behind the beauty?
Just like any other mysterious place on Earth, there's a strong legend that surrounds the site of Pamukkale! And this legend a tells a story that once upon a time there was a Turkish girl who was unlucky in love as none of the Turkish men found her attractive.
Depressed, she threw herself off the travertine. She luckily landed in one of the site's hot springs and emerged unharmed and so beautiful that a Turkish lord fell in love with her and married her. It makes a good story, but we're not so sure if we're willing to put it to the test!
Why visit?
Not only is the site of Pamukkale indisputably stunning making for quite the Instagram snap, but a bath in its hot springs has been linked to a whole host of health benefits. In fact, many believe its waters act as a natural cure for asthma, rheumatism, high blood pressure, digestive issues and many more problems!
So why not book a trip and see if the waters of Pamukkale really can cure. And who knows, you may even return a little more beautiful!
Video: These natural pools in Thailand are always vivid blue and green (Travel + Leisure)
Search on Bing:
More about World Heritage site
Search on Bing:
More about World Heritage site